Friday, October 29, 2004
Deja Vu? Same To You!

by Glenn Cripes
They sure knew how to package LPs in the seventies. Crosby Steals the Cash (the Beatles of the seventies) did it up big time with Deja Vu, their second album. They saw The Band use sepia toned old timey photos of them looking like Amish pig farmers for their album cover, so they went ahead and dressed up as Civil War neer do wells and recreated themselves as Matthew Brady daguerroetype subjects pasted on a simulated leatherette cover and called it 'Deja Vu'.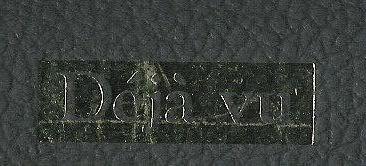 A better title would be 'Fake Gold Leaf on Dogshit'.
Who's the best songwriter in this picture?
10 points if you said 'the dog'.
CS&N brought Neil Young into the mix by this time. David Crosby's personal life was in tatters. His 'lady' (how royal and hip is that to refer to your girlfriend as your 'lady'?--man, those guys were cool) had perished in an auto accident (she was probably making an emergency chocolate cookie run for Dave at the time).
Crosby's mental state is evident in songs like Deja Vu:
And I feel like I've been here before
Feel like I've been here before
And you know it does make me wonder
What's going on under the ground

Do you know?
Don't you wonder?
What's going on
Down under you

Na, na, na ...
Thought provoking stuff.
Stephen Stills who, in the Buffalo Springfield 'told no tales of hot dusty roads' now in his 4 + 20th year had matured into a rugged blues/folk stylist rhyming 'life' with 'strife' in a 'tribute' to The Beatles 'Mother Nature's Son'.
It was Graham Nash's turn to wash Joni Mitchell's teacups and groom her cats, and he paid homage by penning 'Our House', a classic tune that lives on in macrame to this day.
Crosby's 'Almost Cut My Hair' is the centerpiece of this magnum opus. Dave took the thought of getting a haircut to a new level of terror and self doubt. In the hands of lesser songwriters, this idea might manifest itself into a likeable shaggy dog tale of barber poles and comic books, but Dave would have none of that. He takes the listener on a harrowing journey to the center of his mind.
Well, must be because I had the flu this Christmas
Oh, yeah and I'm not feeling up to par
It increases my paranoia
Yeah, like looking in my mirror and seeing a police car
I haven't mentioned Neil Young yet. His compassion and sense of comaraderie comes through in a big way. His decision to save all his good songs for After The Gold Rush and not overshadow his pals' efforts is just another tribute to Canadian politeness.
What a load of butt this record is. I hate myself for ever having this LP.
See you next week folks! Carry On brothers and sisters!