Monday, February 28, 2005
wade in the water, wade in the water children
... manzoni got it all wrong with that can of shit, by the way. the original idea came from marcel duchamp who signed a urinal with the name
r mutt
and called it art: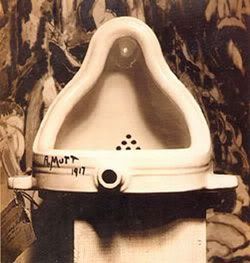 but what manzoni and the rest of the witless neo-expressionists didn't understand was that duchamp wasn't making a statement about art, he was commenting on the pathetic design of your common or garden toilet: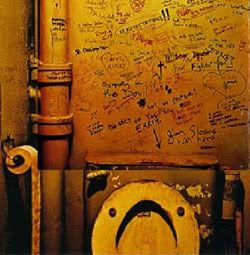 think about it? what happens when a man pisses into one of those things? any harrassed housewife will tell you that some of the piss goes down the bowl and some of it goes on the bowl, on the wall behind the bowl, on the floor around the bowl, and - for some reason only
enrico fermi
could explain - all over the floor in the hallway outside the lavatory. it's the spray factor at work: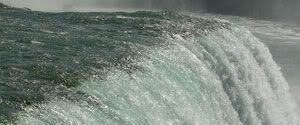 you get these posh bogs in upper class houses and they've all got a bidet. they think they're clever, one better than the working classes: "hey, we clean our arses in this, look how lovely we are."
but then, the same rich guys get up from the bidet with a clean arsehole and piss all over their own floor.
you have to laugh, right? duchamp must be chuckling to himself up there in dada heaven.
Ω
Sunday, February 27, 2005
two of us wearing raincoats, standing so low in the sun
... while manzoni was canning his crap in cremona, over in england the big two were painting the life out of each other. check out these two portraits,
francis bacon
by lucien freud and
lucien freud
by francis bacon: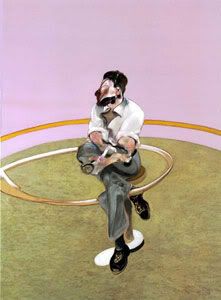 and here's a photo of francis and a photo of lucien: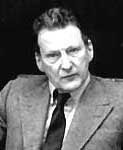 now you can say what you like about piero, but his can of shit actually
looks
like a can of shit, right?
Ω
Saturday, February 26, 2005
reet petite
neo-expressionist classics #12: merda d'artista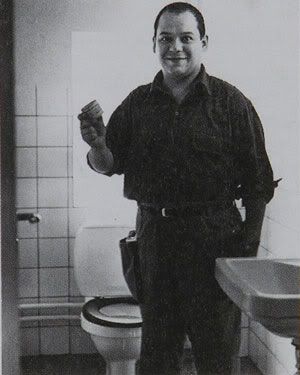 the guy in the photo is
piero manzoni
. in 1961 he canned a load of his shit and sold it under the title,
artist's shit
: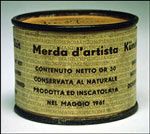 each can had the signature of the artist on the top: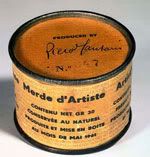 important tip
remember, if you decide to invest $350,000 in this product and you have teenage kids at home, do not under any circumstances leave it lying around in the kitchen.
Ω
Friday, February 25, 2005
Bend Down Low--Let Me Tell You What I Know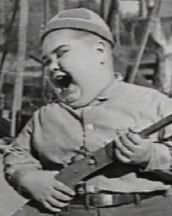 by Glenn Cripes
nick doesn't miss a thing when it comes to history. To celebrate what would have
Bob Marley's
60th birthday this month our record of the week is: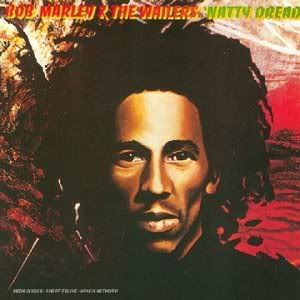 Natty Dread
opens with the suggestion to
Lively Up Yourself
. How am I supposed to 'lively up' myself with this slow, inertia inducing cartoon cereal commercial music?
Next up we have
No Woman No Cry
which is another puzzler. It's a nice enough tune (for
once
)....I used to think it just meant 'no girlfriend=no hassles'. Then I read up on Jamaican culture and found out that Rastamen lock women up in separate huts during their menstrual cycle--the worst thing you can call a guy in Jamaica is 'blood clot'. Is
No Woman No Cry
about not having to worry about women on their period taking your spiritual power away? I googled the lyrics and found the verses were about eating cornmeal porridge in a government yard in Trenchtown. So this song has nothing to do with complexity of relationships at all. It's another cereal commercial.
So what's this stuff good for anyway? Every song sounds like a nursery rhyme in pigeon English.
Louie Louie
marries
Banana Boat
and they have a bunch of kids who can't talk right. There are some good reggae songs out there....
Israelites
by Desmond Dekker and the Aces for instance--that I consider lively. Bob Marley's music sounds like what constipation feels like. You want something to happen, but nothing does.
Marley's tragic early demise from cancer unfortunately stilled his talent. Had he lived, his message of peace and unification would resound now more than ever. He could do a River of Peace tour with Carlos Santana.
My belly full of this. See you next week.
Thursday, February 24, 2005
a four legged friend, a four legged friend, he'll never let you down
i've been thinking about traffic today and i remembered that when i was a kid in liverpool in the 50s you had to wait a while to see a car. here's a photo which gives you an idea what liverpool was like back then: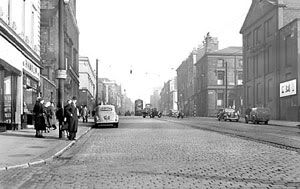 pretty funny, right? you got excited when something moved in the street. here's london in 1951: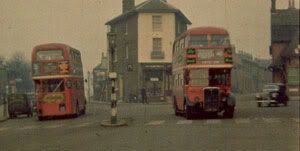 that's
london
, remember, not sac city, iowa. ok, now i want to take you back a further fifty years to london in the late 1890s: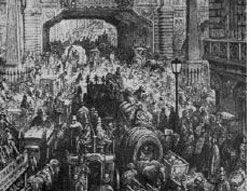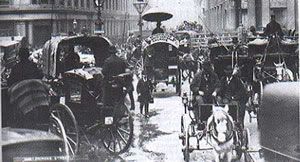 could be today, right? except that the traffic was all horses then. same shit, different animal.
i was lucky enough to grow up when the old technology was being replaced by the new. i guess one motorised taxi did the job of ten or twenty horse-driven cabs, so until every idiotic family had three cars there was room to breathe.
now we're waiting for the next technological change which will once again free the cities from the traffic chaos. i wonder what it will be?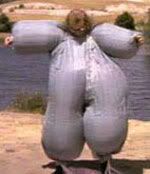 hmm... nah... but... you never
really
know, though...
glenn cripey, glenn gross
i'll be coolin' up at my morris dancing club for a couple of days while glenn "they shot horses, didn't they?" cripes will be chattin' 'bout the soundz.
see you guys on saturday.
Ω
Wednesday, February 23, 2005
can't you see my signals turn from green to red, and with you i can see a traffic jam straight up ahead
exhibition road
, in london, england, is going to be used to test out a revolutionary new traffic project:
Road users mingle in naked scheme
Traditional traffic controls would be stripped away
A west London road may be stripped of its kerb, traffic lights and signs in an attempt to encourage pedestrians and cars to mingle.
Exhibition Road in Kensington could be the showcase for the "naked road" experiment - pioneered in Holland.
this is what they expect the road to look like when they strip away all the white lines, road islands, traffic lights, etc: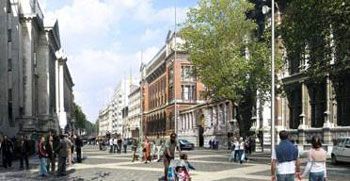 but what's that
pioneered in holland
all about? like, we've had that system here in sicily since the car was invented: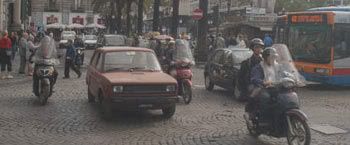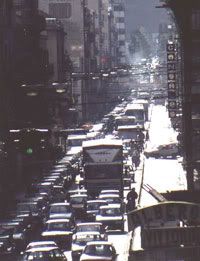 Ω
Tuesday, February 22, 2005
light yourself a candle, don't wear sandals, try to avoid the scandals

trish from brighton's style pointers
SO WOMANHO
TAKE UP BEING A TRANSVESTITE OR A CROSS TRANS GENDERED INDIVIDUAL, OR ARE
YOU ALREADY NICK/NICKY
IT IS DEFINITELY THE ONLY WAY TO GETAHEAD NOWADYS....LOOK AT
PERRY MASON...INVESTIGATOR TURNED TRANS GENDERED AND ENDED UP GRAYSON PERRY
AND WON A FUCKING TURNER PRIZE..
NOTHING IS JUST STRAIGHT FORWARD ANYMORE..
THE STAKES FOR ORIGINALITY ARE MUCH HIGHER NOW...
I BLAME IT ON THAT THATCHER AND SAATCHI..
EVERYONE IS COMPETING FOR ATTENTION....ALL THIS MODERN ART.
TRACY [vermin]ENIM,AND THE CHAPMAN BROTHERS HAVE ALL CREATED A GENERATION
OF ATTENTION SEEKERS.
IN NORMAL EVERYDAY LIFE.....INDIVIDUALS HAVE BEEN ENCOURAGED TO BEHAVE
OUTLANDISHLY.
TAKE FOR INSTANCE CHRISTINE,,,SHE OR HE IS A TRANS GENDERED INDIVIDUAL..MY
FIRST ENCOUNTER WAS TO HOLD A DOOR OPEN FOR HIM,AS HE WAS IN A WHEELCHAIR.
"LET ME HELP YOU SIR"
"I'M NOT A SIR I'M A TRANSGENDER INDIVIDUAL IN A WHEEL CHAIR"
THEN I LOOKED BEYOND THE WHEELCHAIR,
THE FLUORESENT TABBARD ,
THE THICK WORN OUT FLEECE,
AND THE WOOLY SOCKS IN SIZE 11
SANDALS

,AND NOTICED HER LONG HAIR AND RED NAIL VARNISH...AND SWEET FACE SITTING
ONTOP OF WHAT WOULD BE A 6FT 3'MAN.
"OH SORRY"
SO WE HAD A CHAT ABOUT HER CUSTOMISED WHEELCHAIR...
SHE IS ROBOT TRANI, SHE HAS HOOTER HORNS ATTACHED TO THE WHEELCHAIR AT THE SIDE TO GIVE OUT A
WARNING...
FIVE WALKING STICKS PROTRUDING AT ODD ANGLES FROM THE BACK OF HER CHAIR, SHE
CAN DO A LOT OF DAMAGE WITH THOSE WHEN REVERSING.
LOTS OF ELECTRICAL TAPE HOLDING THE WHEELCHAIR TOGETHER,AND LOTS ELASTIC
BICYCLE CLIPS.
WARNING SIGNS THAT SHE WAS DISABLED BOTCHED TOGETHER WITH THE "L" LEARNER
DRIVER SIGN?
WAS SHE LEARNING TO WHEEL THE VEHICLE?
LEARNING TO COPE WITH BEING DISABLED OR
BEING TRASNGENDERED?
JUST LIKE A SPECIAL OFFER 2 FOR ONE?
S DISABLED WHEELCHAIR USER......
HER MISSION IN LIFE IS TO MAKE COMPANIES AWARE OF HOW FUCKING HARD IT IS TO
GET ACCESS IN A WHEELCHAIR.
SO HOW DOES SHE DO THAT?
SHE REGULARILY HURLS HERSELF DOWN THE 7 STEPS OUTSIDE HER LOCAL BANK.
"I'M A STUNT ARTIST" CHRISTINE TOLD ME.
EVERYONES A FUCKING ARTIST NOWADAYS..
STARTED THINKING ABOUT DISABILITY AND TOYS , LOOK WHATS OUT THERE
ALREADY...
"AIDEN ASSIT"...... A BOYS DISABLED TOY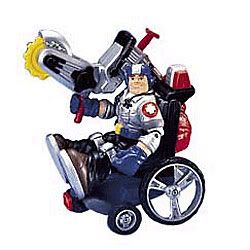 "SHARE A SMILE BECKY"...FOR GIRLS

AND
"TRANSGENDER BARBIE"

AND APPLE HAVE PRODUCED AN "I BOT!"

Monday, February 21, 2005
aaaaw mama, can this really be the end

the guy driving the car blew his brains out today.
so? yeah, right, that was the way he was going to go. like, if you've got a gun in your house and you're a man, what are you going to do, take some pills? no, he went out in the right way.
i don't really want to write too much because millions of words will be written about it and they'll all be banal. just words. thompson wrote a lot of words too - maybe too many: if he had a fault it was excess and even in his work he overdid it. maybe he should have stopped after fear and loathing and thought, hey, how can i do that again.... but even better? but he didn't. but it's not important, anyway.
i wanted to do something that was more about his ethos. which was the image. so i went to google images and wrote
gonzo
. on the first page there was nothing - just second rate gonzo stuff - but on the second page there was one image which summed it all up: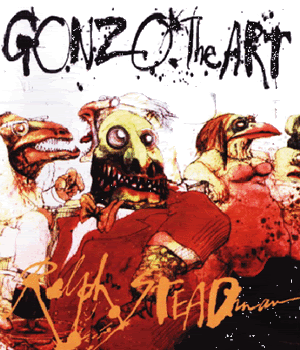 it's the scene from the hotel bar with all the delegates from the police convention (if my memory serves me well). he's tripping on thirty or forty different drugs and what you see in the picture is what he sees in his mind.
ironically, thompson was the one person who didn't need a cartoonist to picture what he wanted to describe. having the cartoons in the book was a sort of hunteresque joke because his written descriptions were more visual than the illustrations.
i don't really want to write things about today, i've already talked enough. don't bother reading all the journalist shit that will be in the papers for the next few days, go to
this site
and root out as many images as you can find. then if you want to see how a writer can create an image in your head in the same way as steadman does with his cartoons go to your local bookshop and ask for
fear and loathing in las vegas
: one of the funniest books ever written.
and the beat goes on





Ω
Sunday, February 20, 2005
i may be foolish but i've got a heart
it's getting more and more difficult to take the piss out of people, right? it used to be racial groups, women, jews and gays and that was about it. so the belgians, the welch and the scotchies were all good value. then the scotchies started to feel politically incorrectly fingered, cornish guys screamed for a halt to pastie jokes, anybody who was part of even the smallest social group was saying, hey, don't laugh at me, cos i'm a fool.
so thank god (oops, sorry god, just joking, innit?) we still have sac city, iowa: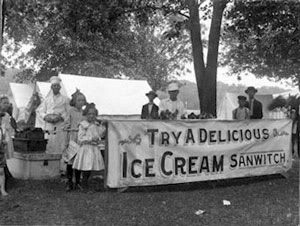 you have to laugh, right?
poignant photo of guy who didn't want to be laughed at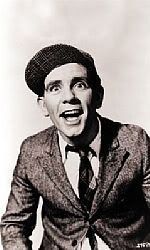 Ω
Saturday, February 19, 2005
blinding signs flap flicker flicker flicker blam pow pow
something big happened up there in the sky a few weeks ago:
Brightest Explosion Ever Observed Overwhelms Telescopes
Scientists have detected a flash of light from across the Galaxy so powerful that it bounced off the Moon and lit up the Earth's upper atmosphere.
This "giant flare" was the brightest explosion ever detected from beyond the Solar System. For over a tenth of a second the remarkable flare was actually brighter than a full moon.
NASA and European satellites and ground-based telescopes around the world detected the giant flare on 27 December 2004. Scientists from twenty institutes joined the observations.
pretty spectacular, right? and the boffins over at the hubble centre caught the event in all its spectacular glory. check out these stunning shots: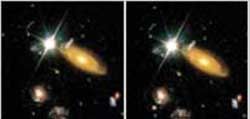 one of the interesting aspects of the explosion is the fact that the light detected from the giant flare was far brighter in gamma rays than visible light or x-rays. it was probably created by an unprecedented eruption on the surface of an exotic neutron star which is classed both as an
ultra-magnetic magnetar
and as a soft gamma repeater (sgr). makes you think, right?
a number of important questions arise from this discovery:
1 are some gamma ray bursts (thought to be very distant black-hole-forming star explosions) actually from neutron star eruptions in nearby galaxies?
2 what mechanism could unleash so much energy from a magnetar?
3 could an even larger influx of gamma rays have caused mass extinction on earth in the past?
dr rob fender
of southampton university had this to say:
"This is a once-in-a-lifetime event. We have observed an object only 20 kilometres across, on the other side of our Galaxy, releasing more energy in a tenth of a second than the Sun emits in 100,000 years."
dr bryan gaensler
of the harvard-smithsonian center for astrophysics mumbled this:
"The next biggest flare ever seen from any soft gamma repeater was peanuts compared to this incredible December 27 event. Had this happened within 10 light years of us, it would have severely damaged our atmosphere and possibly have triggered a mass extinction. Fortunately there are no magnetars anywhere near us."
dr maura mcLaughlin
of the university of manchester opened her gob and this came out:
"These neutron stars have magnetic fields hundreds of times more powerful than any other objects in the universe. We may be seeing a massive release of magnetic energy during a 'starquake' on the surface of the object."
heavy shit, i think you'll agree. and check out that date, 27 december... ring a bell? right, the tsunami. i may well have to get the manho research group (msg) cranked up next week to discover the obvious links between the two cataclysmic events.
incredible space-type photo of syd barrett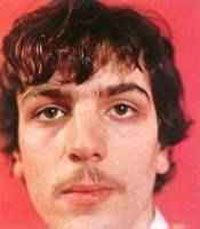 afterthought
southampton
university?
Ω
Friday, February 18, 2005
I Curse Myself For The Life I've Led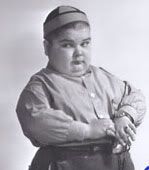 by Glenn Kripes
There's really no such thing as a perfect album. Take
Something Else
by
The Kinks
for example.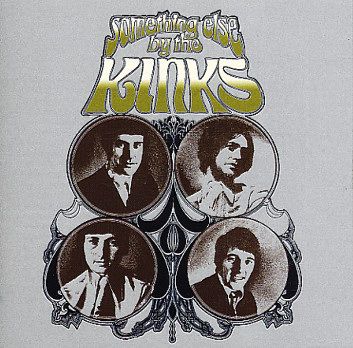 This is one of those albums I remember exactly where and when I bought it. Back in the early seventies Kinks albums were hard to come by. I had the Greatest Hits and the Lola album and I was on a mission to get
all
The Kinks. Problem was that they were mostly out of print. I started looking through auction lists and paying $15 (in 1970's kid's money) for a copy of
Kinks Kontroversy
. What a great day it was when I was in my local department store and found
Something Else
in the $2.99 bin. I can still remember going home and putting the needle on the first song and hearing
David Watts
. What a fa-fa-fa-fa-fa f*cking great song! This had to be the first 'oi' song ever, even though they don't actually say 'oi' in the song (The Kinks were much too elegant to ever make such a common gutter utterance).
More delights follow. Ray is at the top of his game with the jaunty tunes like
Harry Rag
and
Afternoon Tea
. Add
Waterloo Sunset
to the equation and you have a pretty fine piece of work. Who did all those lovely harmonies on those klassic Kinks records? It was Rasa Davies, Ray's then wife. This has to be the
only
time a rock star spouse has ever improved a record.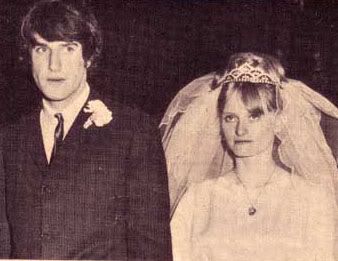 Ray and Rasa Davies
Something Else
is also a breakout record for brother Dave.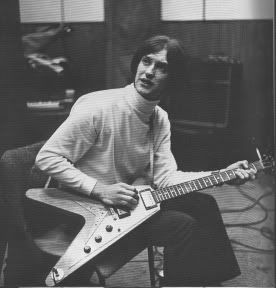 Aspiring songwriter Dave Davies
His signature song
Death of a Clown
is here, as well as
Love Me Till the Sun Shines
--a kind ode to a slagheap that follows a young man home after the bars close. The delightfully askew
Funny Face
is always a treat. Is it a love song for a girl in a mental institution? About time I say! Way to go Dave.
So what's not to like here? Well, a few things. Some songs are just kinda there, like the baroque tale of
Two Sisters
, the lazy bossa nova
No Return
, and the
Rainy Day In June
re-write that is
End of the Season
. Ray was already self plagiarizing by this time.
Situation Vacant
is merely annoying, while
Tin Soldier Man
should be shot. Ray has proved he could write good send ups of dull people in songs like
A Well Respected Man
but he has an annoying tendency to run his 'ordinary people' fantasies into the realm of juvenile cliche.
The Castle Kinks reissue CDs are uniformly brilliantly put together.
Something Else
contains the bonus tracks
Autumn Almanac
, the John Lennon favorite
Wonder Boy
, and the great lost
There's No Life Without Love
, plus more Dave delights like
Lincoln County
and
Susannah's Still Alive
, another ode to an unattractive woman.
These days, if I buy an album that has one song I like, I'm happy. It used to be if I liked three songs I'd be happy. In this age of drastically lowered standards,
Something Else
holds it's head high.
Thursday, February 17, 2005
rock with the cavemen
i got this email from
lorenzo, 72, from sac city, iowa
telling me all about this new discovery in ethiopia:
Two Ethiopian fossils have been crowned as the oldest known members of our species. An estimated 195,000 years old, the pair were witness to the earliest days of Homo sapiens.
The discovery adds yet more weight to the argument that Africa, and Ethiopia in particular, was the birthplace of humans. The dating sits well with genetic analyses of modern populations, which suggest that H. sapiens first appeared in Africa around 200,000 years ago.
The fossils, called Omo 1 and Omo 11, were found in 1967 at Kibish, near Ethiopia's Omo River, by the famed fossil-hunter Richard Leakey. Although Leakey realized that Omo 1, at least, was a H. sapiens, the dating of mollusc shells found with the bones suggested that the specimens were only 130,000 years old.
that wasn't the actual email, it's the
article
he was talking about. the actual email said,
"see a look at this arsticle"
. i guess sac city, 2005 isn't that far removed from ethiopia 200,000 years ago, right?
anyway, here's one of the fossils they discovered: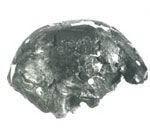 apparently it's a skull, called Omo 11.
omo 11?
let's just say i wasn't convinced so i got the "manho research group (
mrg
) on the case. for non-regular readers, the
mrg
is a scientific research group financed by manho inc and
proctor and gamble
:
here you can see them carbon dating a small velociraptor unearthed in a cesspit near oklahoma city.
to cut a long story short i got the guys testing that skull and they came up with a discovery that could well shock the world: it's not a skull after all, it's a very eary ski helmet: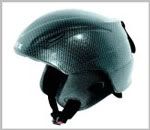 so our ancestors had winter holidays too. plus ca change, as the froggies say.
and if you happen to come across a skull (or ski helmet) similar to the one above while you're digging in your garden, remember that
ace blu
: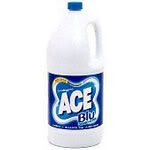 the wonderful extra-strong bleach from the
proctor and gamble
guys is just the product you need to make it clean enough for the kids to play with.
friday night is music night
i'll be spending the next 48 hours in the lalique and brass rubbing clinic, arles. glenn "when i hear the word science, i reach for my copy of revolver" cripes will be here to guide you through the rapids of crazy rock.
see you guys on saturday.
Wednesday, February 16, 2005
i'm one toke over the line, sweet jesus, one toke over the line
check out this article from today's guardian:
How Jesus told a good gag
Sophie Arie in Rome
Wednesday February 16, 2005
The Guardian
It's not a book known for its comedic value, but look beyond the death, disease and destruction of the Bible, and lo, you will find a joke or two.
That is the view of theological scholars who have gathered in Italy to try to dispel the idea that ancient Christians were a po-faced lot, who struggled for a sense of humour.
In a three-day conference at Turin University, entitled Laughter and Comedy in Ancient Christianity, experts have been presenting papers on themes such as Laughter in the Old Testament and Comedy in the Bible Today.
Some have found indications that Jesus Christ had a sense of humour and references to laughter and comic moments in the scriptures.
She cites the example of a disciple who, referring to Jesus's home town, asked: "How could anything good ever come from Nazareth?"
Another example is in Luke's gospel, when Zaccheus, a short man and despised tax collector, has to climb a tree to see Jesus. Jesus picks Zaccheus out of the crowd and asks if he will put him up for the night.
The scholars also point to the fact that the Old Testament patriarch Isaac's very name means laughter in Hebrew, and was chosen because of the joy his parents Abraham and Sarah experienced when he was born.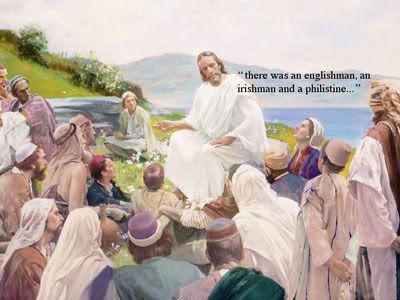 i have to admit that i didn't notice any chuckles myself when i read the bible, but i'm always ready to give a guy a second chance. ok, let's run these jokes up the flagpole and see if anybody sings "america, the beautiful":
"How could anything good ever come from Nazareth?"
hehehehe, yeah, that's a good one. i can't imagine how i missed that one. that's a rib-tickler, alright.
Zaccheus, a short man and despised tax collector, has to climb a tree to see Jesus. Jesus picks Zaccheus out of the crowd and asks if he will put him up for the night.
boy, oh, boy, i bust a gut on that one. this stuff makes mel brooks look like jay leno, right?
Old Testament patriarch Isaac's very name means laughter in Hebrew.
a wowser! i'd call it more of an aphorism than a joke, though.
anyway, the article convinced me i had it all wrong. that jesus was a wag. and the more you think about it, right? the false beard, the sandals, the juggling tricks...
birthday greetings to a regular reader
that
nad, 13, from liverpool
mailed me to say it's her birthday today. she sent me this photo:

she looks cute, right? anyway nad, i've commissioned a special birthday poem for you. it's based on the great
dominic behan
song, "liverpool lou". you can hear the tune
here
and sing along if the festive spirit moves you:
o, liverpool nad
lovely liverpool nad
it's your 14th birthday
i guess you're quite glad
switch on your ipod
you got from your dad
and play "happy birthday"
o, liverpool nad