Sunday, October 31, 2004
man, them snappers all around my feet
another problem with porn today is lack of class. most porn is vulgar, to say the least: pink metallic knickers, nipple tassles, body piercing... let's face it most of the porn models look like they've just got out of prison. and that's not erotic. and it's so "in your face", so explicit. i'm surprised they don't give you a little explanation manual to make it even easier: "the two brown knobbly things that you see on top of the wobbly mounds, those are the "nipples", etc". kids today have lost the art of fantasizing. there's just no subtlety anymore.
it wasn't always like this. in the 1950s in england sir henry moore was known as "the duke of porn". his stuff was hot but it had class, you had to use your imagination. oy! those were the days.
alternative porn: #3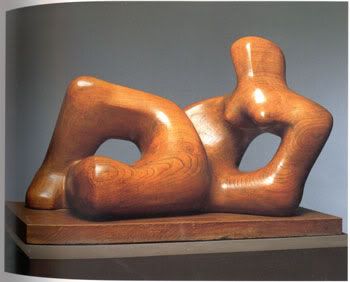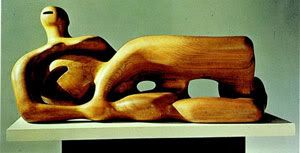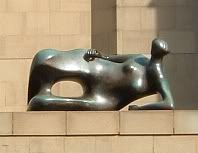 enjoy! but make sure you've got your kiddie filters on, this is strictly "for adults only".
Saturday, October 30, 2004
for the cuckoo's in the nest an' we cannot take no rest
horror town blaze and pigeon scandal
pocklington
, a seemingly idyllic yorkshire market town, has been plagued recently by a series of horrific - some say devil engendered - incidents. in november 2003 there was a devilish fire at the bus station:
About 0945hrs on Sunday 2nd November 2003 the Humberside Fire and Rescue Service attended a fire next to their Pocklington Fire Station at the E.Y.M.S. bus garage in Station Road. Acrid black smoke enveloped the town for several minutes before the fire was quickly brought under control. The fire appears to have started in a single decker coach parked outside and then spread into the garage itself. Altogether three buses have been damaged along with the structure of the building. An investigation is ongoing to establish the cause.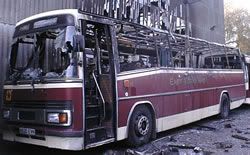 as if that wasn't enough, the town now has a, possibly infernal, pigeon problem:
At the Pocklington Town Council's recent Land & Property committee meeting two letters were received from residents complaining of the increasing number of pigeons in the town. The pigeons are causing a real health hazard with droppings falling on pavements making them both slippery in wet weather and creating a nasty smell. There is creates an obvious health hazard. Councillors decided to ask experts to examine the problem and suggest what action could be taken. They also agreed to apply to DFRA for a licence to cull but would explore all other avenues before implementing this policy.
One of the worst affected places is on the footpath by the side of Pocklington Arts Centre which is owned by the council. The council has now received advice from Robert Hewitt from a company called Pestsafe and decided to fit guards on the gutters at the Arts Centre to prevent the pigeons roosting there. Any other business in town contemplating similar work can contact Robert on 01964 527655 who would be happy to give a quote.
Robert says one of the most effective ways to reduce numbers of pigeons is to stop people feeding them. The town council therefore make an appeal to residents not to feed pigeons. Even dropped litter containing fast food can attract the birds. If the numbers of pigeons are not reduced by these actions a cull has now been authorised and will have to be arranged.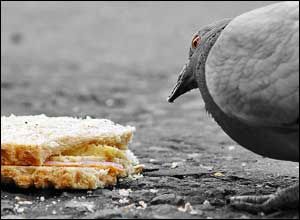 makes you think, right?
late night pigeon up-date
i was going to post a photo of pigeons being culled and went to google hoping to find something disgusting - guys smashing little pigeon heads with wooden mallets, or something. so i put "pigeon cull" into google images and the only two photos that came out were these:

something wicked this way comes?
Friday, October 29, 2004
Deja Vu? Same To You!

by Glenn Cripes
They sure knew how to package LPs in the seventies. Crosby Steals the Cash (the Beatles of the seventies) did it up big time with Deja Vu, their second album. They saw The Band use sepia toned old timey photos of them looking like Amish pig farmers for their album cover, so they went ahead and dressed up as Civil War neer do wells and recreated themselves as Matthew Brady daguerroetype subjects pasted on a simulated leatherette cover and called it 'Deja Vu'.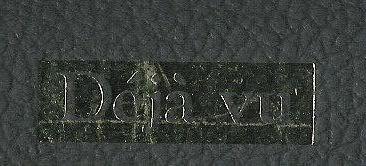 A better title would be 'Fake Gold Leaf on Dogshit'.
Who's the best songwriter in this picture?
10 points if you said 'the dog'.
CS&N brought Neil Young into the mix by this time. David Crosby's personal life was in tatters. His 'lady' (how royal and hip is that to refer to your girlfriend as your 'lady'?--man, those guys were cool) had perished in an auto accident (she was probably making an emergency chocolate cookie run for Dave at the time).
Crosby's mental state is evident in songs like Deja Vu:
And I feel like I've been here before
Feel like I've been here before
And you know it does make me wonder
What's going on under the ground

Do you know?
Don't you wonder?
What's going on
Down under you

Na, na, na ...
Thought provoking stuff.
Stephen Stills who, in the Buffalo Springfield 'told no tales of hot dusty roads' now in his 4 + 20th year had matured into a rugged blues/folk stylist rhyming 'life' with 'strife' in a 'tribute' to The Beatles 'Mother Nature's Son'.
It was Graham Nash's turn to wash Joni Mitchell's teacups and groom her cats, and he paid homage by penning 'Our House', a classic tune that lives on in macrame to this day.
Crosby's 'Almost Cut My Hair' is the centerpiece of this magnum opus. Dave took the thought of getting a haircut to a new level of terror and self doubt. In the hands of lesser songwriters, this idea might manifest itself into a likeable shaggy dog tale of barber poles and comic books, but Dave would have none of that. He takes the listener on a harrowing journey to the center of his mind.
Well, must be because I had the flu this Christmas
Oh, yeah and I'm not feeling up to par
It increases my paranoia
Yeah, like looking in my mirror and seeing a police car
I haven't mentioned Neil Young yet. His compassion and sense of comaraderie comes through in a big way. His decision to save all his good songs for After The Gold Rush and not overshadow his pals' efforts is just another tribute to Canadian politeness.
What a load of butt this record is. I hate myself for ever having this LP.
See you next week folks! Carry On brothers and sisters!
Thursday, October 28, 2004
take my word we would treasure each day that occurred
great rock maestri: #2
i guess calling the guy in the photo above a rock maestro is diminishing the man. he is the person for whom the epithet was invented: the irish rover, the dublin poltroon, the legs of man, the pint of guinness... there are just too many to recount.
yes, it's bono, the irishman who saved the brazilian rain forest, invented the marshall plan, financed the american space exploration programme... the list just goes on and on. here he is with president charles de gaulle and his attractive wife, nanette, being presented with the medal for winning the prix de l'arc du triomphe on rainbow quest in 1985: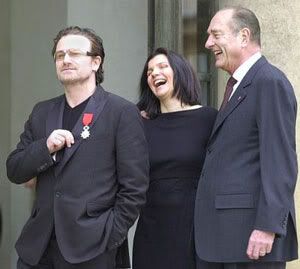 little known bono fact
his name is a reversal of his real surname: patrick o'nob.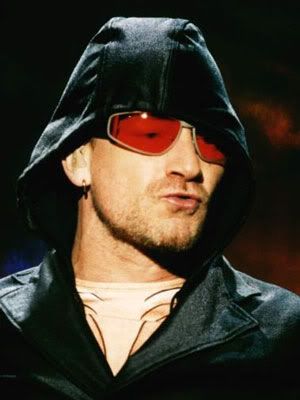 in the photo above you can see o'nob in the outfit he himself designed for saving the brazilian rain forest in.
10 pm o'nob update
when i think of bono you know who comes to mind? james cagney. ok, i hear you saying, "you're a knobhead, what have cagney and bono got in common?" well, they both have that pugnacious quality that only very, very small men seem to possess. pocket-battleship geniuses, right? look at these two photos and tell me if they're not the same guy: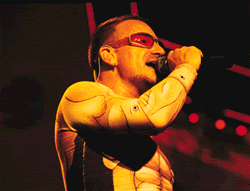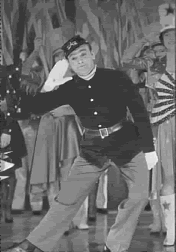 and the clincher is their catchphrases. remember cagney at the end of white heat? up there on the gasometer with just one last bullet in his pistol and surrounded by cops. what does he do? he shoots into the gasometer of course, killing himself and taking thirty or forty cops with him. and what does he say before he blows up the joint?
"made it, ma! top o' the world!"
isn't that just the thing bono is saying with
his
famous catchphrase, "top o' the mornin' to ya, sor"?
__________
well, another week has passed and it's friday again (possible manho catchphrase?). tomorrow i'll be taking a rest and glenncripes, the frisco jeepster, will be here with another
great albums of the century, already
feature.
see you guys on saturday.
Wednesday, October 27, 2004
we were somewhere around barstow at the edge of the desert when the drugs began to take hold
great successful marriages: #2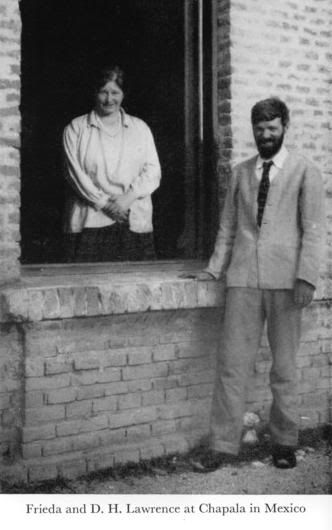 today's successful marriage is that of d. h. lawrence (check out that great suit) and emma maria frieda johanna, baroness von richthoven (she was a cutie). they were married in 1914 and frieda was still by his side when he died in france in 1930. they travelled all over the world together and were never separated.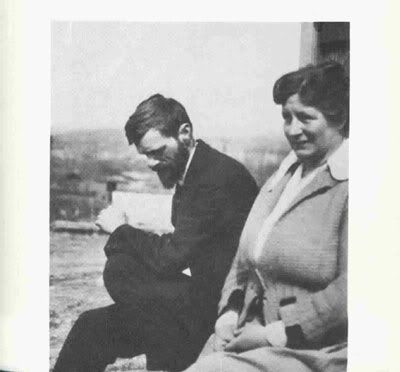 words are hardly necessary, the happiness oozes out of that photo.
d. h. and frieda had what i'd call "balance" in their relationship. she was a domineering nymphomaniac (she cuckolded david many, many times), while he was a weak, sexually impotent, repressed homosexual. a perfect match. remember this: always look for your opposite in a partner, it guarantees longevity.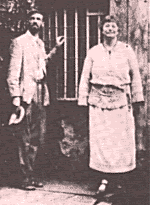 they wore cool clothes in the twenties, right?
8.00 pm david and frieda update
i came across this great story about lawrence and frieda. they were living in this house, villa fontana vecchia, in taormina, sicily: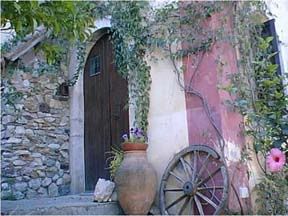 and one day lawrence was out collecting butterflies or some such crap when...
In the opinion of most Taormina residents, the inspiration for Mellors was a mule driver named Peppino D'Allura who worked for a local wine merchant. In her biography of Lawrence, Brenda Maddox reveals that D'Allura came to Fontana Vecchia one day while Lawrence was away. Frieda, naked, greeted the young man at the front door and offered her services. He graciously accepted.
yep, you guessed it, the gamekeeper in lady chatterley's lover was none other than some mule driver jerk called peppino. and what about that frieda, right? answering the door naked... in sicily. so i guess that's one more little tip for a successful marriage: the hubby must turn a blind eye to the litle peccadillos of the wife.
Tuesday, October 26, 2004
solo una sana e consapevole libidine salva il giovane dallo stress...
moron of the week: #2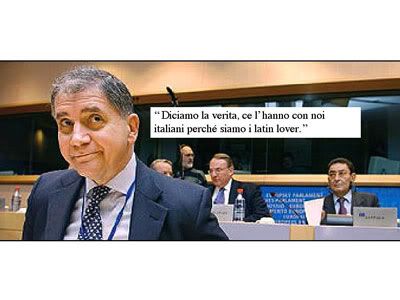 yes, it's rocco again. number one for the second week running.
in the photo you can see rocco's reaction to his rejection by the european parliament. he's saying, "let's face it, they've got it in for us italians because we're latin lovers".
something has been niggling me all week about rocco, how could such a moron be a philosophy professor at a university? so i checked out his cv at the
italian embassy
and now it all makes sense:
Born in Gallilpoli (province of Lecce) on 6 June 1948, Rocco Buttiglione is married and the father of four daughters. He lives in Rome, where he is Full Professor of political science at Saint Pius V University.
He studied law in Turin and Rome, where he took his degree with a thesis in the history of political doctrines under Professor Augusto Del Noce. He became Prof. Noce's assistant and friend, and established an intellectual collaboration with him that would last for more than twenty years.
He has concerned himself with philosophy, social ethics, economics, and politics at the International Academy of Philosophy in the Principality of Liechtenstein; he also served as the Academy's Acting Chancellor and gave lectures and seminars on ethics at the Catholic University of Lublin, which awarded him an honorary degree in philosophy in May 1994.
He has been engaged in courses, seminars, meetings and lectures in the United States sponsored in collaboration with the most authoritative representatives of the American intelligentsia.
He frequents the American Enterprise Institute in Washington, D.C., directed by M. Novak, the G. Weigel Ethics and Public Policy Center in Washington, the Action Institute of R. Sirico in Michigan, and the Religion and Public Life Institute of R. Neuhaus in New York.
check out the status of those academic institutes. you have to laugh, right? saint pious v university in rome? never heard of it. it's probably some sort of catholic mail-order place where you do everything by post. and that liechtenstein acadamy of philosophy looks dubious, right? and what about that catholic university of lublin?
the really funny thing about rocco, though, is that even god doesn't like him much. four daughters? for an italian? you really do have to laugh, right? poor rocco.
Monday, October 25, 2004
he and i dined together alone at the legg in king street
somebody wrote complaining that there's no politics on the blog. well, if you read between the lines it's
all
political, but for the literalist readers here's some serious political stuff.
great stories from the press: #2
Schmelvis: Rock 'n' Roll With a Bagel
Thursday, May 16, 2002
By Michael Y. Park
Like the thousands of pilgrims to Graceland, Montreal native Dan Hartal felt he had a personal connection to The King.
And like some of them, he arrived at the musician's former home in full Elvis regalia: super-powered sideburns, oversized sunglasses, a white jumpsuit and glittery cape.
But Hartal wasn't just any Elvis impersonator - he was an Hasidic Elvis impersonator.
In other words, Schmelvis had entered the building.
"When I heard 'Hound Dog' as a kid, I just said, 'This is it. This is what I have to be, to sound like,'" Hartal said last week in a telephone interview.
In his quest to learn what it meant to follow both Elvis Presley and ultra-orthodox Judaism, Hartal, in his late 30s, journeyed from Quebec to Jerusalem to Presley's home in Memphis, Tenn. He and his pilgrimage are the subject of a book and upcoming documentary, Schmelvis: Searching for the King's Jewish Roots, which will premiere in the U.S. in August.
Hartal created Schmelvis at the old-age home where he works as a music director, and now performs Yiddish-laden lyrics to Presley tunes like "Schmelvis Chicken Soup" and "Treat Me Like a Mensch."
"I have this formula, this equation I like to give Schmelvis," Hartal said. "It's basically: Schtick plus Elvis equals Schmelvis."
"Going to Graceland was wicked in a good way," Hartal said. "I was treated as a complete celebrity. The first time being in Graceland, I felt the awe, the inspiration of Elvis. And I realized for the first time how big he still is, and that no one can fill those blue suede shoes. Elvis is the epitome of perfection of a rock star. Elvis was blessed by God. And I realized he wasn't just an entertainer, he was the King, and this place fulfills a void that no temple and no religious place can fulfill as this place does."
and here's a photo of shmelvis fans in the line outside the venue for a recent concert in the gaza strip.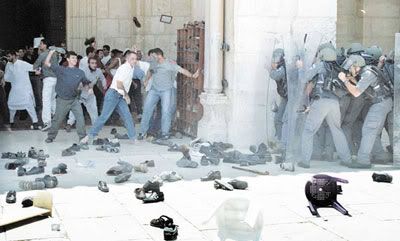 __________
interesting elvis (real elvis, not shmelvis) fact
he had a twin brother.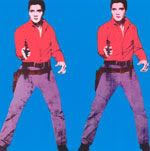 Sunday, October 24, 2004
so besame, besame mucho
the problem with porn today is that you get to see everything. where's the space for your imagination? they even have cameras now that go inside the vagina and take photos of the ovaries. how sexy is that?
in victorian days they used to cover up the legs of the grand piano with little croched maxi-skirts and historians have suggested that they did it out of a sense of embarrassment or shame, but the real reason was another: it was more erotic to
think
about the piano legs than to actually see them.
those victorians knew a thing or two about porn. check out lewis carroll. check out sir edwin landseer.
it was the same in the 50s. you had to think about what was inside that flimsy veil. that seeming-to-wobble flesh drove you crazy with desire. i'm going to take you back to the golden age of erections with a still from the film:
they wore no clothes
. those were the days, as mary hopkin warbled.
alternative porn: #2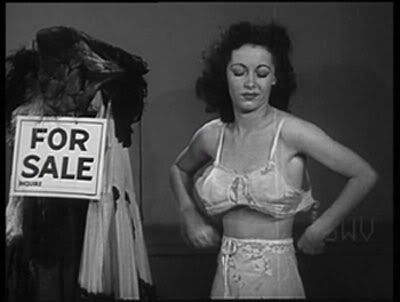 __________
SUNDAY RECIPE
during today's online research for a book about edwardian ornithology i'm working on, i came across a nice recipe for
sausage lasagne
. good eating.
__________
NOT FOR THE KIDDIES
apropos victorian porn, here is an example of sir edwin landseer's subtle erotic imagination. he calls this work,
marmosets on a pineapple
: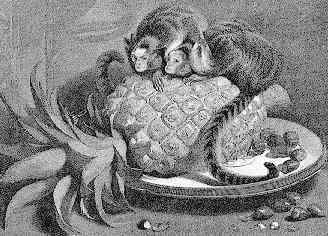 it's easy to see why sir edwin was considered the "maestro of masturbation" by the victorian aristocracy.
Saturday, October 23, 2004
a vitaltone speaker, capable of capturing skybuddies
have you ever felt thick? have you ever been at a sophisticated dinner party with a pack of pretentious literary bullshitting twats talking about james joyce? you felt like a moron, right? you felt almost as stupid as rocco buttiglione, right? well, now, you too can join in with the intellectual bullshitting thanks to the rte's wonderful online resource:
ulysses for thick bastards
.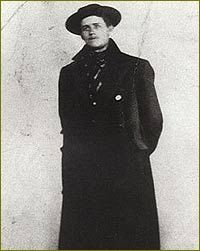 the rte is a sort of irish bbc and a few years ago they did this series of radio programmes based on ulysses. each episode explains one chapter of the book. you can listen to the programmes online while you read the synopsis of each chapter. here's the first:
TELEMACHUS
The action of Ulysses opens at 8 am on 16 June 1904 in the Martello Tower in Sandycove, which is about 10 kilometres south of Dublin.
Three young men are living there - Stephen Dedalus, a moody poet who returned some months previously from a stay in Paris; Buck Mulligan, a witty medical student and friend of Stephen; and Haines, an English friend of Mulligan at Oxford and an Irish language enthusiast.
Mulligan is shaving and is joined by Stephen whom he reproves for his failure to comply with his dying mother's wishes. Stephen already feels guilty about this. While they are at breakfast, which Mulligan has prepared, an old woman delivers milk. Mulligan then decides to go for a swim and all three leave the Tower.
On the way to the bathing place Haines and Stephen talk about Stephen's theory of Hamlet. Before Stephen leaves to teach at a nearby school Mulligan asks him for two pence for a pint and the key to the Tower. Stephen wonders if he will be welcome to stay there much longer, even though it was he who paid the rent.
In the Homeric correspondence, Telemacus, in the absence of his father Odysseus, sees his wealth being usurped by others just as Mulligan and Haines are taking over the Tower from Stephen.
as you can see even a reasonably thick guy can understand it. you can be bullshitting with the best within a week. for the even thicker guys there are lots of photos on the page, too.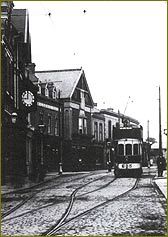 all in all it's a goldmine for thickos. fill yer boots, as joyce might have said.
__________
SPECIAL MANHO ANNOUNCEMENT
you've probably noticed that i never thanked glenn cripes for his guest appearance yesterday. well, it wasn't ingratitude and it wasn't because i was bemused by all the frisco "jive talk". no, i loved it, and my legal people have been wrangling throughout the night with cripes to secure a long-term contract, which, i'm proud to announce, we have secured.
it was tough - we're talking three figures, here - but cripes has signed a contract which commits him to a series of rock album reviews which will be entitled:
cripes nails the greats
. in this series glenn will analyse all the greatest rock albums of the last two hundred years.
check him out. every friday. glenn "he always nails it" cripes.
Friday, October 22, 2004
Smile

I'm Glenn Cripes. LOL :)
Rock journalists are such liar heads. I just got a copy of
'Smile'
by Brian Wilson. It was supposed to come out after Pet Sounds in the sixties but it didn't. This is a really stupid headed record. It works as a time capsule if you're the type who would want to save the guest towel that your grandmother wiped her butt on when she first started going senile. There's nothing beautiful about it. It reminds me of a rock opera I wrote about Oreo cookies when I was a kid.
What makes me mad is that it glorifies mental illness. Brian Wilson was always a spazz, but he was a clever spazz that made good music once. Smile is not good music. That stuff is cute for a 3 year old, but not an adult. Childlike innocence I like, but this is a child with a pantload of poop and grape jelly all over his shirt.
Glenn Cripes says 'stay away'.
Thursday, October 21, 2004
do not take baths in the abandoned bathtubs
theme of the day is great rock giants. guys who created art out of what was previously just, "twanging strings and warbling".
great rock giants:#1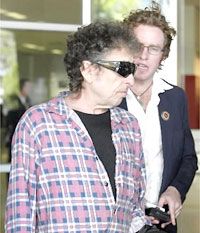 yes, it's the great boby dylan. the tambourine, the man who blew with the wind, the rolling stone (not the rolling stones, stone, singular), the man on whom the hard rain fell, etc.
the epithets are many, but the man is one. boby dylan. he started out in the 40s in gallup, texas, as a circus act: shovelling out the elephant droppings and performing a slack-wire poltroon act. within weeks he was number one all over the world with his anthem for youth, "hey, mister tambourines man."
here he is with his "band". in the picture you can see boby with gart hudson, robbert robinson (his faithful "guitar plucker") and on the right, in the background, tom petty (boby's loyal "henchman")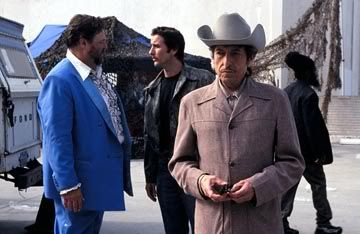 sixties thru nineties, boby had a "sting of hits" and is still going strong today with his drag double act, "blonde and blonde":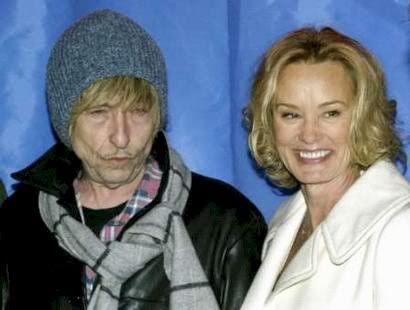 __________
i've just googled dylan and
this
article came up. donovan? ok, i googled again and came up with this: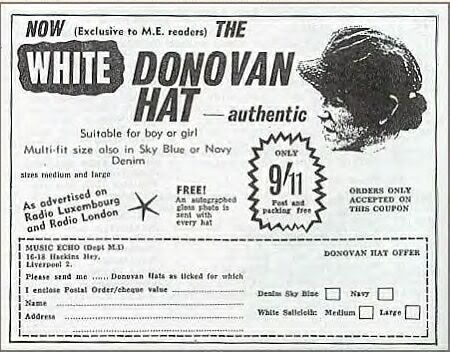 so this is something to do with hats, right? but then donovan writes:
What an adventure tale! From a tough mining town to the bright lights... He was born on the shores of the Great Lakes in northern Minnesota; the lakes have ocean-going harbours, and Bob grew up in much the same environment as his contemporaries in Britain, people like me in Glasgow.
so i googled again and it seems that dylan is the son of a sofa shop owner and donovan is from a gypsy family who lived on a campsite near glasgow docks.
sometimes the internet just makes things more complicated.
__________
MANHO BLOG SCOOP
it's going to be a big day on the manho blog tomorrow. i'm taking a day off and we're flying in the number one blog guru from frisco. he's going to give you a taste of what blogging is like in "the state that just sunbathes and that's it".
see you guys on saturday.
Wednesday, October 20, 2004
why don't people keep tortoises as pets anymore?
as i get older and sager (doesn't look quite right that... more sage?) people are always asking me this question: what makes a successful marriage?
let's face it, most marriages are a joke, but some stand out like shining steel things in a heap of dung. every wednesday i'll present a great successful marriage and try to explain what made it "click".
great successful marriages: #1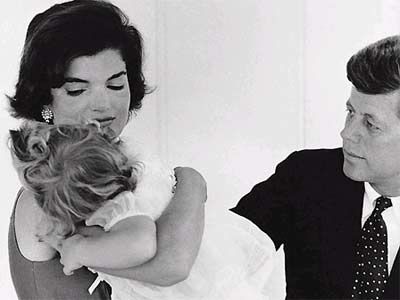 just one look at that wonderful photo and you realise what a wonderful successful marriage means. there has to mutual adoration, of course: great, profound love. then there has to be mutual respect. in fact, "mutual" is a key word. the closer you get to "mutualness" the better your chances are of "pulling it off".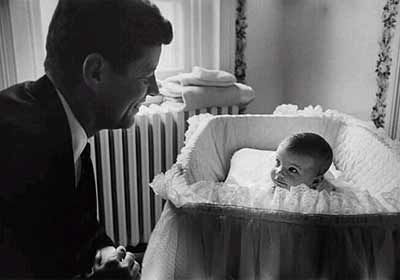 look at that adoring love that john had for his children. this is a must. the father must love or adore (or both) the children and the wife equally. how many men can say that of themselves?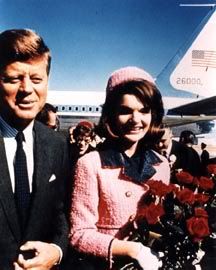 there they are in all their kodachrome glory on that sad last day together. and what does that tell us? that the wife must be forever supportive, forever willing to sacrifice her life for her "man". jackie had that ability. she was there at the end. and contrary to what many people have written, no, she was not trying to run away when she clambered onto the back of the car: she had just remembered that she needed to buy a new pack of cigarettes and had spotted a convenient automatic cigarette dispenser over by the grassy knoll.
so john and jackie were together till the end. of course john was a satyromaniac (medically speaking he suffered from satyriasis) and had sex with over 1,000 women in his short life. i guess that made the day to day slog a bit easier. which reminds me, a wife must also be very forgiving.
__________
pondering the kennedy marriage today i recalled the famous meeting between jfk and harold macmillan in 63. kennedy was on his way to berlin to make his historic, "ich bin ein berlinguer" spech, and had stopped over in london for a meeting with the aging and deeply conservative british prime minister. here he is: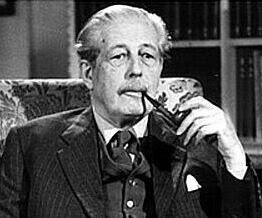 after the meeting had finished kennedy said to mac, "can you fix us up with a couple of broads for the night?" mac was shocked, the last time he'd had sex was with his wife during the conception of their third child, thirty years earlier. since that day he'd taken comfort in his pipe. it was one of the great "culture shock" moments in history.
Tuesday, October 19, 2004
tai chi causes cancer shock
tuesday is going to be "moron of the week". and here is this week's moron: rocco buttiglione.
moron of the week: #1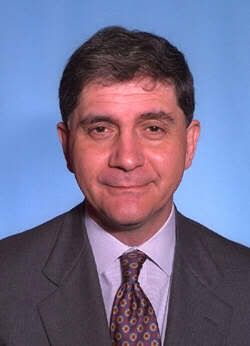 say hello to rocco. look at that face. you may have read about this guy recently. he's the italian government minister who's trying to become the european union commissioner for justice and civil liberties. problem is that he's anti-gay rights, anti-abortion, anti-single mothers, anti-embryo research, anti-divorce, anti- pre marital sex, anti-masturbation and anti-contraception.
no, he's not a muslim fundamentalist, he's a catholic. and italy are proposing him for european commissioner for
civil liberties
. you have to laugh, right?
if i told you what rocco's profession was you wouldn't believe me but i'll tell you anyway, he's a philosopher. you have to laugh (again), right? or maybe cry. rocco is a great candidate for the first ever "moron of the week", in fact he's already favourite for the "moron of the year" title.
__________
12 pm rocco news round-up
ironically, rocco was down here here in sicily this afternoon doing some organisational work with his political party, the udc. he was interviewed on the local tv news:
telecolor
. he said he was only here to talk to his party and didn't want to speak to the press. then i thought, hey, but he
is
speaking to the press.
i guess you think rocco was doing a derrida, right? subverting the textual observed reality and everything. you'd be wrong though, he was just being a moron.
dog bites dog
i've been looking round a few hundred other blogs to get some idea of how to do this stuff but they all seem to be women writing about their cats. there are thousands of pages of text about women and their cats posted every day. why would anybody want to read that?
my guess is you need gimmicks to draw the crowds. as you've seen, sunday is porn day and monday is going to be "great stories from the press". here's the first from 8 december 2000.
great stories from the press #1
'Nigerian witch steals man's penis'
December 08 2000 at 10:03PM
Lagos - Police in Lagos late on Friday detained a woman who had been stripped and beaten by a mob after a man accused her of "stealing" his penis.
A spokesperson at Ikoyi, the Onikan police station, declined to reveal the identity of the woman, who was beaten up and led down a busy road, half naked, by a mob of about 100 people.
Members of the crowd said that the woman was a witch who had magically 'stolen' the penis of a man in the crowd.
No-one in the crowd, who were insulting and hitting the woman and had torn off her shirt and bra, said they had actually seen any evidence (the man was holding tightly on to his trousers) but all appeared to believe his story.
Power of women to magically 'steal' mens' private parts
The Onikan police station spokesperson refused to say on what grounds the woman was being held or whether the claims of the man that his member was missing had been verified.
Belief in the power of women to magically 'steal' mens' private parts by an incantation or simple handshake are widespread across Nigeria and much of west Africa. - Sapa-AFP
and here's a photo of a nigerian woman kicking down somebody's front door: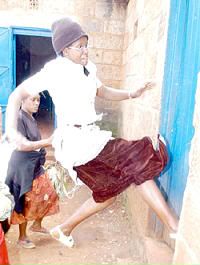 __________
news just in: 01.02 am 0ctober 18 2004
a baby pit bull terrier playing in its owner's garden squeezed through the fence to the next door neighbour's garden and was eaten alive by the neighbour's two teenage daughters.
Sunday, October 17, 2004
pope trampled to death by irate gelding
bored with the usual porn you find online? yeah, me too, so i'm starting an "alternative porn" moment. every sunday i'll be posting a special something.
alternative porn #1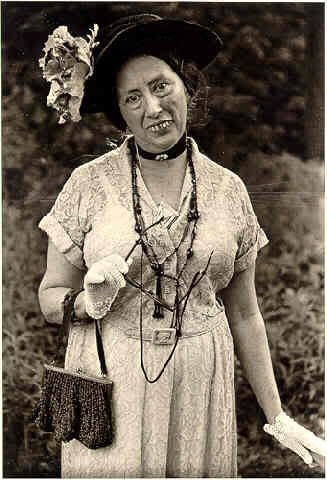 __________
did you ever wonder why woody's last twenty or thirty films were crap? here's why:
She had, she thinks, the defining Woody Allen experience on the set of Melinda and Melinda. 'He doesn't like to rehearse. Most of the cast didn't have the script, they didn't even know who they were in the film. And I thought for the first two days: God, I'm fired, for sure I'm fired - because he wasn't talking to me, he was just saying: "Action" and "Cut." And you hear all these stories about, like, actors go on set one day and then the next day they're gone and someone else is in there, playing their part. But then I realised he had a very casual attitude towards shooting. Like he'd ask us if we'd finished yet, because he wanted to go and have a bath. And then literally would go home after, like, two takes: "No, you were great!" That was the environment he was creating. That's what Woody Allen movies are about: anxiety, anticipation, uncertainty.'
the rest of the article is all airhead young actress stuff so i won't bother posting the link.
wouldn't it be great if woody went back to slapstick?
Saturday, October 16, 2004
manho welcomes readers
hello, readers.