Tuesday, October 19, 2004
dog bites dog
i've been looking round a few hundred other blogs to get some idea of how to do this stuff but they all seem to be women writing about their cats. there are thousands of pages of text about women and their cats posted every day. why would anybody want to read that?
my guess is you need gimmicks to draw the crowds. as you've seen, sunday is porn day and monday is going to be "great stories from the press". here's the first from 8 december 2000.
great stories from the press #1
'Nigerian witch steals man's penis'
December 08 2000 at 10:03PM
Lagos - Police in Lagos late on Friday detained a woman who had been stripped and beaten by a mob after a man accused her of "stealing" his penis.
A spokesperson at Ikoyi, the Onikan police station, declined to reveal the identity of the woman, who was beaten up and led down a busy road, half naked, by a mob of about 100 people.
Members of the crowd said that the woman was a witch who had magically 'stolen' the penis of a man in the crowd.
No-one in the crowd, who were insulting and hitting the woman and had torn off her shirt and bra, said they had actually seen any evidence (the man was holding tightly on to his trousers) but all appeared to believe his story.
Power of women to magically 'steal' mens' private parts
The Onikan police station spokesperson refused to say on what grounds the woman was being held or whether the claims of the man that his member was missing had been verified.
Belief in the power of women to magically 'steal' mens' private parts by an incantation or simple handshake are widespread across Nigeria and much of west Africa. - Sapa-AFP
and here's a photo of a nigerian woman kicking down somebody's front door: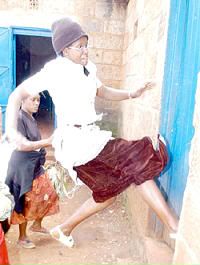 __________
news just in: 01.02 am 0ctober 18 2004
a baby pit bull terrier playing in its owner's garden squeezed through the fence to the next door neighbour's garden and was eaten alive by the neighbour's two teenage daughters.
Comments:
Poor cunt....you let a woman 'borrow' your penis and she forgets to give it back.
You just know that all women secretly wish they could pull off witchcraft...all those fucking venereal diseases come from either Africa or France.
i think you'll find that venereal disease was first given to eve by god (either through the apple or the snake). eve then passed it on to adam and the kids and then the kids - who were hanging out with a bad crowd down at the eden a go go bar - passed it on to...
Post a Comment
<< Home