Saturday, October 30, 2004
for the cuckoo's in the nest an' we cannot take no rest
horror town blaze and pigeon scandal
pocklington
, a seemingly idyllic yorkshire market town, has been plagued recently by a series of horrific - some say devil engendered - incidents. in november 2003 there was a devilish fire at the bus station:
About 0945hrs on Sunday 2nd November 2003 the Humberside Fire and Rescue Service attended a fire next to their Pocklington Fire Station at the E.Y.M.S. bus garage in Station Road. Acrid black smoke enveloped the town for several minutes before the fire was quickly brought under control. The fire appears to have started in a single decker coach parked outside and then spread into the garage itself. Altogether three buses have been damaged along with the structure of the building. An investigation is ongoing to establish the cause.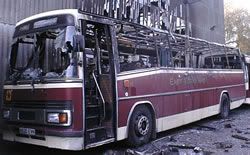 as if that wasn't enough, the town now has a, possibly infernal, pigeon problem:
At the Pocklington Town Council's recent Land & Property committee meeting two letters were received from residents complaining of the increasing number of pigeons in the town. The pigeons are causing a real health hazard with droppings falling on pavements making them both slippery in wet weather and creating a nasty smell. There is creates an obvious health hazard. Councillors decided to ask experts to examine the problem and suggest what action could be taken. They also agreed to apply to DFRA for a licence to cull but would explore all other avenues before implementing this policy.
One of the worst affected places is on the footpath by the side of Pocklington Arts Centre which is owned by the council. The council has now received advice from Robert Hewitt from a company called Pestsafe and decided to fit guards on the gutters at the Arts Centre to prevent the pigeons roosting there. Any other business in town contemplating similar work can contact Robert on 01964 527655 who would be happy to give a quote.
Robert says one of the most effective ways to reduce numbers of pigeons is to stop people feeding them. The town council therefore make an appeal to residents not to feed pigeons. Even dropped litter containing fast food can attract the birds. If the numbers of pigeons are not reduced by these actions a cull has now been authorised and will have to be arranged.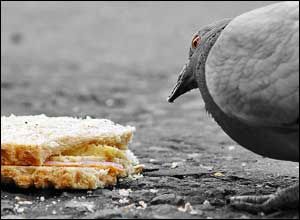 makes you think, right?
late night pigeon up-date
i was going to post a photo of pigeons being culled and went to google hoping to find something disgusting - guys smashing little pigeon heads with wooden mallets, or something. so i put "pigeon cull" into google images and the only two photos that came out were these:

something wicked this way comes?