Monday, October 25, 2004
he and i dined together alone at the legg in king street
somebody wrote complaining that there's no politics on the blog. well, if you read between the lines it's
all
political, but for the literalist readers here's some serious political stuff.
great stories from the press: #2
Schmelvis: Rock 'n' Roll With a Bagel
Thursday, May 16, 2002
By Michael Y. Park
Like the thousands of pilgrims to Graceland, Montreal native Dan Hartal felt he had a personal connection to The King.
And like some of them, he arrived at the musician's former home in full Elvis regalia: super-powered sideburns, oversized sunglasses, a white jumpsuit and glittery cape.
But Hartal wasn't just any Elvis impersonator - he was an Hasidic Elvis impersonator.
In other words, Schmelvis had entered the building.
"When I heard 'Hound Dog' as a kid, I just said, 'This is it. This is what I have to be, to sound like,'" Hartal said last week in a telephone interview.
In his quest to learn what it meant to follow both Elvis Presley and ultra-orthodox Judaism, Hartal, in his late 30s, journeyed from Quebec to Jerusalem to Presley's home in Memphis, Tenn. He and his pilgrimage are the subject of a book and upcoming documentary, Schmelvis: Searching for the King's Jewish Roots, which will premiere in the U.S. in August.
Hartal created Schmelvis at the old-age home where he works as a music director, and now performs Yiddish-laden lyrics to Presley tunes like "Schmelvis Chicken Soup" and "Treat Me Like a Mensch."
"I have this formula, this equation I like to give Schmelvis," Hartal said. "It's basically: Schtick plus Elvis equals Schmelvis."
"Going to Graceland was wicked in a good way," Hartal said. "I was treated as a complete celebrity. The first time being in Graceland, I felt the awe, the inspiration of Elvis. And I realized for the first time how big he still is, and that no one can fill those blue suede shoes. Elvis is the epitome of perfection of a rock star. Elvis was blessed by God. And I realized he wasn't just an entertainer, he was the King, and this place fulfills a void that no temple and no religious place can fulfill as this place does."
and here's a photo of shmelvis fans in the line outside the venue for a recent concert in the gaza strip.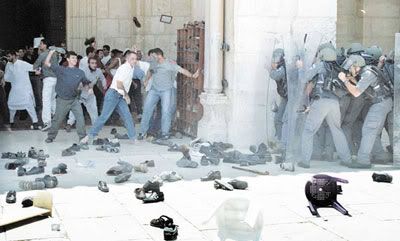 __________
interesting elvis (real elvis, not shmelvis) fact
he had a twin brother.