Tuesday, October 26, 2004
solo una sana e consapevole libidine salva il giovane dallo stress...
moron of the week: #2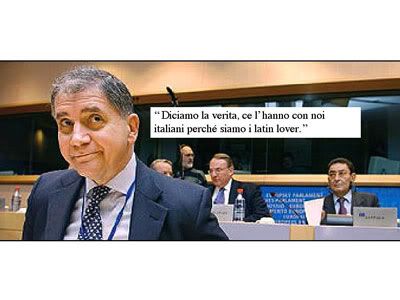 yes, it's rocco again. number one for the second week running.
in the photo you can see rocco's reaction to his rejection by the european parliament. he's saying, "let's face it, they've got it in for us italians because we're latin lovers".
something has been niggling me all week about rocco, how could such a moron be a philosophy professor at a university? so i checked out his cv at the
italian embassy
and now it all makes sense:
Born in Gallilpoli (province of Lecce) on 6 June 1948, Rocco Buttiglione is married and the father of four daughters. He lives in Rome, where he is Full Professor of political science at Saint Pius V University.
He studied law in Turin and Rome, where he took his degree with a thesis in the history of political doctrines under Professor Augusto Del Noce. He became Prof. Noce's assistant and friend, and established an intellectual collaboration with him that would last for more than twenty years.
He has concerned himself with philosophy, social ethics, economics, and politics at the International Academy of Philosophy in the Principality of Liechtenstein; he also served as the Academy's Acting Chancellor and gave lectures and seminars on ethics at the Catholic University of Lublin, which awarded him an honorary degree in philosophy in May 1994.
He has been engaged in courses, seminars, meetings and lectures in the United States sponsored in collaboration with the most authoritative representatives of the American intelligentsia.
He frequents the American Enterprise Institute in Washington, D.C., directed by M. Novak, the G. Weigel Ethics and Public Policy Center in Washington, the Action Institute of R. Sirico in Michigan, and the Religion and Public Life Institute of R. Neuhaus in New York.
check out the status of those academic institutes. you have to laugh, right? saint pious v university in rome? never heard of it. it's probably some sort of catholic mail-order place where you do everything by post. and that liechtenstein acadamy of philosophy looks dubious, right? and what about that catholic university of lublin?
the really funny thing about rocco, though, is that even god doesn't like him much. four daughters? for an italian? you really do have to laugh, right? poor rocco.