Thursday, November 25, 2004
brighton girls are like the moon
got a couple of posts from fans yesterday.
trish, from brighton
wrote:
MANWHODYES AND WOMENALSO
THINK ABOUT IT THE BLOODY ELVIS BLACK HAIR,WHAT A PROBLEM AS YOU GET OLDER.
THIS ALL STARTS WITH NICK CAVES WIFE SUSIE REMINDING HIM TO 'DYE YOUR HAIR
NICK,YOU HAVE A LEONARD COHEN TRIBUTE CONCERT TOMORROW AND YOUR ABIT GREY
AROUND THE EDGE'
JULIE BURCHILL IN THE HAIR WHOLESALER TOPPING UP BOXES OF A JOB LOT OF BLACK
DYE,FANNY AND ARMPIT COVERAGE NEEDED FOR WOMEN.
THEN YOU THINK ABOUT IT BLACK HAIR,AND BEING FAMOUS POP STAR WITH JET BLACK
HAIR FOREVER TILL GREY DO US PART.
GARY GLITTER,WONDER WHAT THE FUCK THE PRISONS DYES LIKE 'HARMONY' special.
GARY NEWMAN,BET HIS EYEBROWS ARE A BIT DODGY
URI GELLER,VERY BLACK,WITH EXTRA ON EYEBROWS FOR EFFECT.
SEE IF YOUR BLOGGERS HAVE A FEW BLACKIES IN MIND DENNIS ROUSSOUS.I NEED THAT
BLACK HAIRDO LIST.
CAN YOU IMAGINE WHAT THE QUEEN NOT FREEDIE MERCURY WOULD LOOK LIKE WITH
BLACK HAIR
THE CURE, SUSIE AND BANSHEES ,ADAM ANT,PLEASE ADD TO MY LIST
DON'T KNOW ABOUT MICHAEL JACKSON?
turns out that trish is a fashion consultant (i hear you can't move in brighton for fashion consultants). i like her style. maybe i'll kick my legal team out of bed and see if we can get her signed up on a weekly basis. that would be cripes as music guru and trish from brighton as fashion consultant. wow! the blog is getting to look more like an
ezine
every week.
i also received this cryptic note from
byshe in iowa
(i guess based on yesterday's chill out feel to the blog):
you may want to check out the sand paintings Tibeten monks do
not a bad idea, byshe. i'll hit google later today.
tibetan sand thing update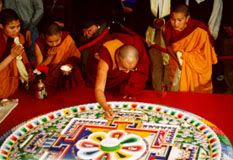 i checked out the sand stuff. apparently tibetans get together and make pictures from different coloured grains of sand. it's a sort of himalayan jigsaw puzzle by the look of it.
here's a site which explains it all
. pretty cool, but if you lose a piece then forget it, you won't find it down the back of the sofa.
ok, that special moment has come around once again. time to leave the stage to "mister jizz", glenn "i threw it all away but somebody brought it back" cripes.
see you guys on saturday.