Friday, November 12, 2004
For Your Pleasure....Not Mine

by Glenn Cripes
Bryan Ferry--at first you think he's all camp and no stove, but his voice is for the ages. Ferry is as good a singer as anyone you can name from any era. Roxy Music helped save the seventies.
For Your Pleasure
, their second album, is named by many as their favorite Roxy LP. Not me--I think it stinks up the joint.
The record opens promisingly enough with
Do The Strand
. You just can't resist waving your arms around like Little Richard in a bath house hearing this song. Problem is, this is the
only
good song on the record. The rest is just fag-ante garde filler.
In Every Dream Home, A Heartache
stands out, and as much as I adore the idea of an ode to a blow-up doll, I get no pleasure from the end result.
The problem here is
For Your Pleasure
is an album of
ideas
instead of songs. This ties in with nick's 'random genius' entry from yesterday--collages of ideas--it's art school shit. Leave it on the drawing board....assholes.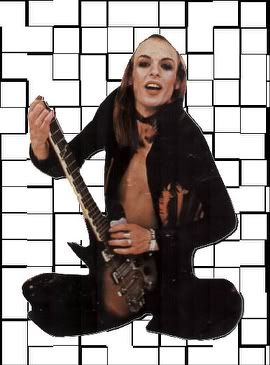 Side 2 is a complete waste of time.
The Bogus Man
is torture chamber music. I don't know exactly how much creative input Eno had here, so I'm unsure of who to blame. Eno can be be brilliant, but he can also exemplify pretentiousness. I just played the whole record and my mind has already ejected any memory of any stray melody that this record might have. One last thing--Phil Manzanera,
the
best instrumentalist in the band was criminally under-used on this record.
For Your Pleasure
is an album that harkens back to the days of pre-Beatles LPs--one good song surrounded by crap. Cripes says skip it and go straight to
Stranded
.
Comments:
I queued for about seven hours to get tickets to see Roxy Music on their comeback tour at Wembley Arena 1983 or 1984. It was one of the worst gigs I've ever seen and it put me off glam-rock forever.
But I'd agree with Stranded being a better album than For Your Pleasure.
Post a Comment
<< Home