Monday, November 29, 2004
the highway is your girlfriend as you go by quick
trish from brighton
, the design consultant, was obviously excited about yesterday's "dog power" idea. she sent me this mail:
MANWHODOESDOGS ON WHEELS
IN THE ENGLISH SEASIDE CITY OF BRIGHTON WE HAVE TAKEN UP THE BOX CAR.
BECAUSE OF ALL THE 4X4 SHORT PEOPLE DRIVING BIG CARS THREATNING NORMAL
DRIVERS IN AVERAGE VECHILES ,WE THE DESIGNERS HAVE TAKEN REVENGE.
MY FRENCH OLD BANGER HAS HAD CARDBOARD BOXES ADDED TO THE FRONT TOP AND
SIDE.SOME ROPE TO KEEP IT ALL IN PLACE,SOME DESIGNER PRODUCT BOXES
WASHINGING POWDER BOXES HAVE GREAT STRENGH AND POWERFUL GRAPHICS AND I CAN
TAKE ON THE BUSY CITY TRAFFIC.YOU SHOULD SEE THE OTHER VECHILES HORRIFIED BY
MY ARIEL/DAZ BOX APPROACH.SOMETIMES I ADD THE EXTRA BOX ABOVE THE DRIVERS
SEAT ON THE ROOF WITH FACE WITH WIG AND MOUSTACHE,SALVIDOR DALI IS A WINNER
BIN LADEN A BIT TRICKY AT TIMES,BUT BOTH HELP YOU TO GET AROUND THE RESORT
QUCIKLY.
MY NEXT PROJECT IS STRAP ON DESIGNER CLASSICS.A PRE CUT CLASSIC CAR WHICH
YOU CAN ATTACH TO YOUR CAR,A SHELL FOR THE TOP PART WITH ALL THE DETAIL BUT
NONE OF THE WORRY.
A FROG EYE SPRITE IS GOING TO BE A BIT TRICKY,BUT THOSE 50'S CLASSICS WITH
THE FINS WILL LOOK GREAT.
SOON THE CUT OUT CLASSSIC WILL BE IN PRODUCTION 'ADD ON A CLASSIC'
i didn't understand all the technical "design" language trish used but the "box car" she describes sounds like something worth debating. i got out my
Autodesk 3-D
software program ($15,765) and bodged up this moving visual image of what i believe trish has in mind: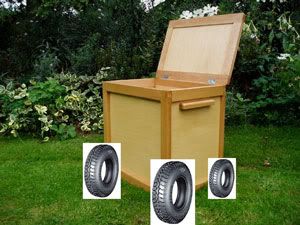 this idea is pungent of "city life". there could be big bucks in it for everybody.
Comments:
LOL @ nick!!! :)
Whenever I dial up your blog it says 'Loading nick manho' on top of my screen.
Isn't that funny?
I think so!
thanks glenn. i never understand your frisco jive talk but i guess you're saying nice things, right?
Post a Comment
<< Home