Friday, December 24, 2004
Hey Man--Pull On My Finger
by Glenn Cripes
Merry Christmas Eve! Saint nick wanted me to make this one 'Christmassy', and I'm happy to oblige. First off, best wishes to all you readers dialing up Mr. manho's blog. Tell your friend, and keep coming back.
My favorite Christmas song is
Santa Bring My Baby Back To Me
by Elvis. I know it's just
Don't Be Cruel
with a red suit and white beard, but I love it just the same. It encapsulates all that's cool about Elvis. Another one that gets me is the Bing Crosby/David Bowie duet of
Little Drummer Boy
. I'm a sucker for a 'rum pa pum pum'.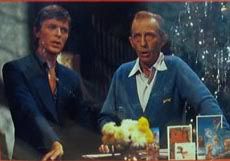 Which brings me to our album of the week, David Bowie's breakthrough to success LP
The Rise and Fall of Ziggy Stardust and The Spiders From Mars
.
The first Bowie record I ever bought was
Station To Station
. I then started working my way back through his catalog, and the Ziggy album ended up being filed and forgotten. Upon re-listening I remember why--it's just not that good. Side one is complete crap and side two has one good song--
Suffragette City
, and that's just because of the 'hey man' part. I think Bowie spent more effort on the costumes and lighting than the actual songs.
His previous record
Hunky Dory
impressed me more.
Changes
and
Kooks
blow away any songs on
Ziggy
. It's just too middle of the road...no 'there' there...or as grandpa Buck 'Pee Pa' Cripes would say, 'All hat and no cattle'......or as my Uncle Clem Cripes (sorry, it's Christmas--my thoughts are with my family) would say, 'all yak and no shack'.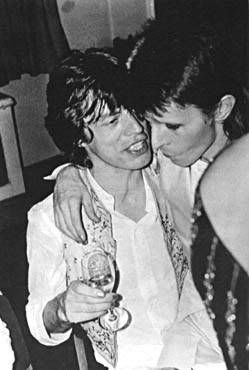 Haha! That's a good line David, but I'd say have time put a 'cigarette' in your mouth instead.
Bowie's stretch of records from
Station To Station
through
Scary Monsters
are the ones I enjoy and recommend. If all Bowie ever did were those records with Iggy Pop (Lust For Life especially), his place in the pantheon of the greats would be assured. I'm guessing that Bowie is responsible for that one repeating piano note in
Raw Power
, and that's cool as hell.
Once again, happy Christmas and sincere best wishes from me, Mrs. Cripes, and all the little Cripeses.