Monday, January 31, 2005
blow the man down bullies, blow the man down
i know how cinderella must have felt. it's 23.38 and i've just got home and i have to post something before 12.00 or i'll miss my one post every day that i've kept up for three or four months now.
i have nothing really to say and no time to read the papers online so i've pulled this photo out of my archives: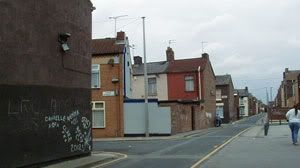 it's
back rockfield road
, in liverpool. on the right, out of shot is
anfield
, liverpool football club's stadium and the road runs down to my grandparents house in
fountains road
- about half a mile away - where i was born and lived until i was 9 years old. after the match i used to run down that road, jinking in and out of the crowd and replaying the game in my head.
it looks more squalid now than it did in the 50s. liverpool is more squalid now. post-industrial. there was no graffiti back in the 50s. i guess because nobody could afford to buy the paint. graffiti is for rich kids. not that we weren't delinquents, we just did it in a different way. there's a great film about the liverpool of the fifties called
distant voices, still lives
, directed by a guy called
terence davies
. you should check it out.
i have to post now or it will be too late. tomorrow i'll check out a link for that film and stuff.
Comments:
What a thriller. Nails to the quick. First half, Sami and Carragher couldn't catch a cold, but could hardly be blamed completely since they had f-all support from the midfield and Kaka and Pirlo both played blinders. But when Benitez saw the error of his ways and got Didi Hamann on, the defence had a chance to do its job and they all dug something out of Emlyn Hughes' grave and did the business. How Dudek got away with those antics at the end beats me, but I guess most refs are on the keeper's side and/or are too spineless to order kicks to be retaken. Epic stuff.
Slothrop
Post a Comment
<< Home