Friday, January 21, 2005
Clock the Putz

by Glenn Cripes
What happens when you've shot your artistic wad and outlived your brilliancy? You get a job and
Punch the Clock
.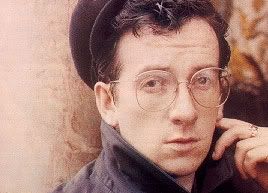 Check out my new look! Yeah, I invented it
This is the first LP of Costello's artistic decline and he knew it, ergo the title. He had a good run.
This Year's Model, Get Happy,
and
Imperial Bedroom
were brilliant, original records, and the rest of them weren't bad either. Nothing lasts forever, and luckily for Elvis, he had learned enough songwriter's tricks to fool the masses with smoke and mirrors.
For instance,
Let Them All Talk
is simply a Bacharach swipe (Always Something There To Remind Me) with fake soul horns added. This album is swimming in those goddamn horns and female backup vocals. Songs like
TKO (Boxing Day)
are the worst of the lot. At least he attempts to work a little bit of a melody into his bid for a single
Every Day I Write the Book
, but the end result rings false.
Costello tries real hard to be profound with numbers like
Shipbuilding
and
Pills and Soap
, but he's just tiresome. Attempts at amusing fall flat with
Mouth Almighty
('Crawling round with my crooner cufflinks and my calling card cologne'?--ewwww), and
The World and His Wife
('the conversation melts like chocolate down our open jaws through the loud appeal of laughter'--the mind boggles).
The Element Within Her
isn't bad, but that's just because it isn't as patently phony as the rest of this record.
Costello's next LP
Goodbye Cruel World
was even worse. To his credit, he admitted it. After that it was collaborations with Paul McCartney, Burt Bacharach and numerous prestige artists, all in a desperate bid to hide the space his muse left when it ran dry.
Without Costello, we wouldn't have had Joe Jackson, would we? We live in an age where the terms 'singer/songwriter' and 'dork' are synonymous.