Friday, January 07, 2005
I Think That People Are The Greatest Fun

by Glenn Cripes
My first contribution to nick's blog was a little blurb about
Smile
by Brian Wilson. It's currently being touted by pop revisionists as a 'lost masterpiece' and I poured scorn upon it. It was a twee embarrassment to humanity back then, and it still is. Which brings me to our album of the week,
Forever Changes
by
Love
.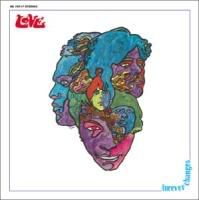 Alone Again Or
, the first cut is a masterpiece, pure and simple. Those opening flamenco guitar chords...it's almost lysergic the way this song sucks you in.....Bacharach on acid with The Tijuana Brass is what it is. Infectious childlike love for humanity tinged with the spectre of ultimate solitude all in one glorious burst.
Sadly,
Forever Changes
takes a serious dive after the first cut is over. I don't attach that much importance to lyrics as a rule, but the horribleness of Arthur Lee's solipsistic ramblings backed by his paint by number melodies reminds me of the days when I had my own band and the drummer said, 'hey, check out this song
I
wrote'. A mere gander at the song titles perfectly illustrates Arthur Lee's lyrical incompetence--
A House Is Not a Motel, Maybe the People Would Be The Times Or Between Clark & Hilldale, The Good Humor Man He Sees Everything Like This
, and
Bummer In The Summer
.....I'm so sure.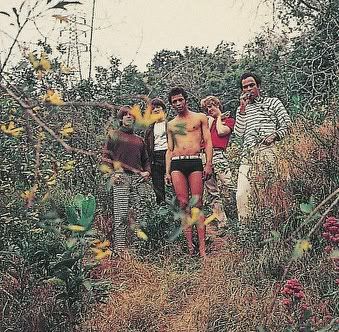 Ever see that movie
Boogie Nights
?
Too bad. Love's first LP was the work of an honest, tuneful ensemble.
Can't Explain
has that great jangly Stones meet The Byrds rhythm guitar thing going. The whole record is a pretty good listen. A little bit of history here--Love was not well known outside Los Angeles, except for pockets of cool guys in the UK, but they were hugely influential. Jim Morrison originally wanted The Doors to be 'as big as Love in LA'. It is said (by Arthur Lee) that Jimi Hendrix and Sly Stone took all their fashion sense from him. They were hip guys. They lived in a Laurel Canyon home once owned by Bela Lugosi. All those pictures of them in front of the rock formation were taken in the garden there.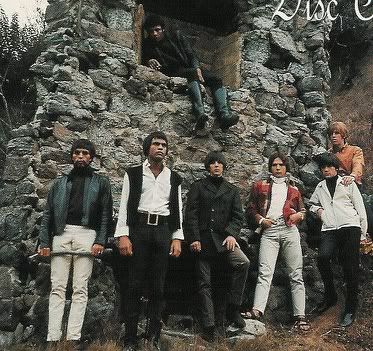 Cool guys only here!
Love was waylaid by the usual suspects--egos, liquor and drugs, criminal behavior etc. Arthur Lee was always the frontman of all editions of Love, but it was Bryan Maclean who was the true heart of Love. He was the better songwriter by far, but he wasn't as driven as Lee.
Says Bryan--"What you have on the second and third Love albums is a black guy from L.A. writing show tunes."
Check out
Bryan's bio here
--fascinating stuff.
Both Maclean and Lee went through heavy substance abuse periods, hit bottom, and became God-bores. Bryan passed away a few years ago (make sure you check that link--it's a much better read than this crap), and Arthur Lee is now wowing audiences around the world with live performances of
Forever Changes
with a crack ensemble of backing musicians....ala Bryan Wilson's current
Smile
tour. A friend from the UK reports this of the show--
"Amazing musically--full brass section, etc--and you notice the motivation behind the album for the first time because Lee is as camp as a row of tents".
Good for Arthur Lee, but I'd prefer a reunion of
The Left Banke
. Their 4 good songs are better than Love's 4 good songs.
Comments:
i never heard the original lp, i only saw the london 03 concert on dvd, it was not bad but i was not shocked by a music some people call 'the best album of all time' so yes, i hate to say i'd go with cripes this time again
Post a Comment
<< Home