Thursday, January 13, 2005
kon kon the kiddy kon kon
that
trish, from brighton
keeps writing to me (why doesn't she just sign up with the manho team and do a weekly column?). she's trespassing on cripes territory now:
DR MANHO
AMERICAN EXPRESS PROVIDED ME WITH A FREEBEE TO SEE DR JOHN IN CRAWLEY LAST
NIGHT....
THAT WAS ONE OF THOSE REALLY GOOOD FREE NIGHTS YOU GET ONCE IN A WHILE.FRONT
ROW SEATS,DEAD CENTRE.
REAL TIME WARP ALL ROUND,OLD MAN WITH YARD LONG HAIR, IN CREAM SUIT,WITH
MASSIVE CLOTH CAP,AND LEATHER SLIPPERS,AND TALL VOODOO CANE,AND A CAN OF
BROWN ALE...NO BOTTLE OF EVIAN.GEORGE MELLY/VAN MORRISON/RANDY
NEWMAN/VOCALS.POLICTICALLY INCORRECT SONGS ABOUT SMASHING WOMEN WITH
ROCKING
CHAIRS..
..
AND CHOPPING MENS HEADS OFF WITH SHOVELS..THIS WAS TURNING INTO A FUN NIGHT.
THE AUDIENCE WORRIED ME SLIGHTLY..ALL SOBER,WITH HINT OF PATCHOULI OIL AFTER
SHAVE.
THEY WERE 60 PLUS,SOME BROUGHT THE GREAT GRAND CHILDREN ALONG?MUST
HAVE BEEN SOME VOODOO PLANNED FOR LATER,
WHY ELSE DO YOU TAKE A THREE YEAR
OLD TO A CONCERT.
WHEN HE FIRST CAME ON A COUPLE OF MALE FANS MADE A DASH
FORWARD WITH WALKING STICKS AND CAMERAS....THESE CAMERAS WERE PRE DIGITAL
DR JOHN IS A BRILLIANT,PERFORMER,PIANIST..DO GO SEE HIM BEFORE HIS VOODOO
POWER MELTS...
she sent me this photo: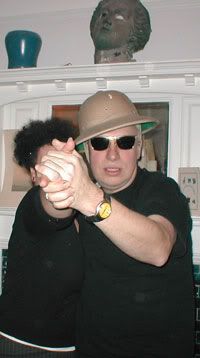 what the fuck?
it's obviously brighton again (you can tell by the grey walls and cool stuff on the mantlepiece), but what's she trying to tell me? is it some visual metaphor related to the dr john concert? hooray for captain spaulding?
ok, my week is over. tomorrow the real king of the music scene, glenn "brighton? i've shit it" cripes will be here with his whatever he does stuff. i'll be chillin' at my osso bucco club.
see you guys on saturday.