Saturday, January 08, 2005
picture yourself on a boat
"i saw a film today, oh boy
the english army had just won the war"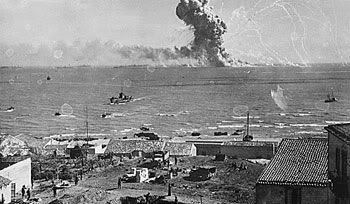 this is a great photo. it's 1943. the english navy are about to invade sicily. on the horizon you can see some of the hundreds of warships used for the invasion. the smaller things nearer the coast are the landing craft. the smoke you see is an artillery ship exploding: hit by a shell, probably. in the foreground you can see a few italian and german military men scuttling around. i don't know what's going through the germans' minds but the italians are almost certainly thinking, "minchia, semmu nella medda."
it's a great photo because it tells a story, like all great photos should. the problem with most war photos today is that they try to be poetic rather than tell a story. that's ok if the photographer is a poet, but they never are.
the photo was taken just up the coast from here, near
siracusa
, or
syracuse
if you like. my father worked on one of the landing craft, maybe one of the ones you can see in the photo. he was here killing italians. i'm here hanging out with them.
"he blew his mind out in a car
he didn't notice that the lights had changed"
the guy in the song was called tara browne, he was a friend of the beatles. this is the car after the crash: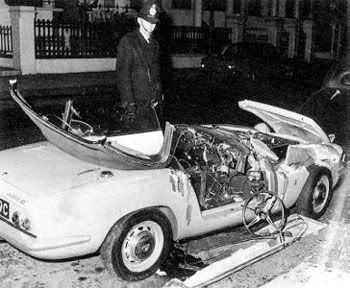 that's a great photo, too. no fucking poetry there, either.
there's no poetry in death, just prose.