Wednesday, February 02, 2005
i'm gonna walk right down that street just like some bulldog drummond
manho test drives the new products
bill gates has pulled out a big one this week.
msn search
. catchy name for a start. if only
google
had come up with a catchy name like "RSQ Search", or something, it would probably be one of the front runners today, instead of languishing in a poor first place with only 78% of the market tucked under its belt.
anyway, let's check out some of bill's new features. hey, he's got
msn search images
! now,
that's
a great idea. let's see how it works. what shall we put in the window? ok, let's try "bill gates". here we go... hey, not bad: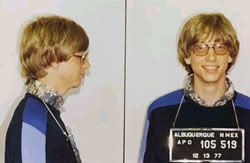 and it was quick, too, 0.0000000000000003 seconds. well done bill.
what else has bill given us? hey,
look up word
! now that's a clever name for an online dictionary, even if i do say so myself (which, in fact, i just did!). "look up word". that obviously came out of a heavy microsoft intellectual brainstorming session.
microsoft boffin: what about "look up word", bill?
bill: yeah, that sounds good, what does it mean?
let's try it out. ok, i've put the word "soft" into the window and... hey presto, in the twinkling of a potato (0.000000000000000000000000000027 seconds), we get this result:
"Definition:
soft malleable"
hey, that's so clever, because anybody who doesn't know the definition of the word soft will obviously know the word "malleable", right?
what else have they got?
shopping
. another original idea from the microsoft think tank. ok, let's give it a go. what do i want to buy?... hmmmm... ok, i could do with a new "pit pony":

let's put it in the window... yep, in only 0.000000000000000000000000431 secs we get a direct hit:
There were no specific results matching all your keywords. Below you will find results containing at least one of your keywords.
The Pit And The Pendulum (1961)
Format: DVD
Region: 2
Genre: Various
Actors: Vincent Price; Antony Carbone; Barbara Steele; John Kerr; Luana Anders; Patrick Westwood
Delivery Cost: Free - Department: DVD
just what i wanted! a dvd of the pit and the pendulum with vincent price!!
manho overview
all in all i'd say that bill has come up with another winner. easy to use, efficient, user-friendly, fast, other adjectives, clever, etc.
this should give the ipod a run for its money.