Sunday, February 06, 2005
In the clearing stands a boxer and a fighter by his trade
there was an interesting documentary on italian tv recently about
diego armando maradona
, probably the greatest footballer of all time. diego was just reaching the peak of his career, playing for
ac napoli
, a team that had never won the italian championship in its 60 year history. and now you had this phenomenon who could pull it off on his own.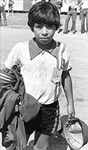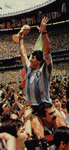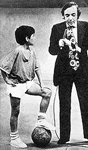 the city was starting to buzz, diego couldn't leave his house. wherever he went he was mobbed. the
camorra
, the local mafia, were also taking an interest in him: inviting him to social events with bosses, and tv soubrettes, and cocaine. diego got the habit. nobody would leave the guy alone.
maradona was a clever guy too, and he realised what was going on. he decided to get out. there was an offer from
marseilles
which diego wanted to take. now marseilles isn't sac city, iowa, it's a pretty heavy town itself, but it isn't naples. it's useless trying to describe naples to people who have never been there so i won't bother. let's just say that everything is exaggerated there. everything. let's say, very exaggerated.
in marseilles maradona would have been free from the camorra, free from the cocaine, free from the madness. but this guy: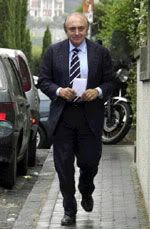 said no.
corrado ferlaino
. the owner of ac napoli. a businessman. nobody special, but he was diego's boss. and he said no. you play for us. so maradona stayed in naples and won two championships and took the fans of ac napoli to heaven. twice. three times, because he threw in a european trophy too. but he also got seriously addicted to cocaine and he looks like this now: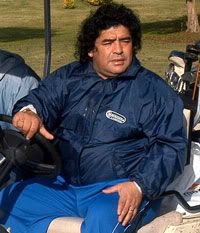 the moral of the story? well, not what you'd think, because diego's story couldn't happen now. no club owner is powerful enough to keep a world class player who wants to leave. the top players - and their agents, and their sponsors - rule sport now. and that's why today's sport is false. the players you see playing for the top clubs and the national teams aren't necessarily the best. they're just the ones whose
faces sell products
. the sponsors and the "agents consortiums" run sport now.
that's why teams like greece win international football competitions. that's why the american basketball team gets thrashed in the olympics.
you want to see real sport? watch the kids on the street, because the next step up the ladder is injecting epo, modelling men's underwear, presenting your own moronic chat show on tv.
diego fucked himself up for football and that's just how it should be. sportsmen were gladiators once, now they're fashion models.
hey, watch yourself on the catwalk, man, you could break a leg.
Comments:
nah... maradona got what he was looking for, because he was a napolitano by heart... all the rest is bullshit
Post a Comment
<< Home