Tuesday, February 22, 2005
light yourself a candle, don't wear sandals, try to avoid the scandals

trish from brighton's style pointers
SO WOMANHO
TAKE UP BEING A TRANSVESTITE OR A CROSS TRANS GENDERED INDIVIDUAL, OR ARE
YOU ALREADY NICK/NICKY
IT IS DEFINITELY THE ONLY WAY TO GETAHEAD NOWADYS....LOOK AT
PERRY MASON...INVESTIGATOR TURNED TRANS GENDERED AND ENDED UP GRAYSON PERRY
AND WON A FUCKING TURNER PRIZE..
NOTHING IS JUST STRAIGHT FORWARD ANYMORE..
THE STAKES FOR ORIGINALITY ARE MUCH HIGHER NOW...
I BLAME IT ON THAT THATCHER AND SAATCHI..
EVERYONE IS COMPETING FOR ATTENTION....ALL THIS MODERN ART.
TRACY [vermin]ENIM,AND THE CHAPMAN BROTHERS HAVE ALL CREATED A GENERATION
OF ATTENTION SEEKERS.
IN NORMAL EVERYDAY LIFE.....INDIVIDUALS HAVE BEEN ENCOURAGED TO BEHAVE
OUTLANDISHLY.
TAKE FOR INSTANCE CHRISTINE,,,SHE OR HE IS A TRANS GENDERED INDIVIDUAL..MY
FIRST ENCOUNTER WAS TO HOLD A DOOR OPEN FOR HIM,AS HE WAS IN A WHEELCHAIR.
"LET ME HELP YOU SIR"
"I'M NOT A SIR I'M A TRANSGENDER INDIVIDUAL IN A WHEEL CHAIR"
THEN I LOOKED BEYOND THE WHEELCHAIR,
THE FLUORESENT TABBARD ,
THE THICK WORN OUT FLEECE,
AND THE WOOLY SOCKS IN SIZE 11
SANDALS

,AND NOTICED HER LONG HAIR AND RED NAIL VARNISH...AND SWEET FACE SITTING
ONTOP OF WHAT WOULD BE A 6FT 3'MAN.
"OH SORRY"
SO WE HAD A CHAT ABOUT HER CUSTOMISED WHEELCHAIR...
SHE IS ROBOT TRANI, SHE HAS HOOTER HORNS ATTACHED TO THE WHEELCHAIR AT THE SIDE TO GIVE OUT A
WARNING...
FIVE WALKING STICKS PROTRUDING AT ODD ANGLES FROM THE BACK OF HER CHAIR, SHE
CAN DO A LOT OF DAMAGE WITH THOSE WHEN REVERSING.
LOTS OF ELECTRICAL TAPE HOLDING THE WHEELCHAIR TOGETHER,AND LOTS ELASTIC
BICYCLE CLIPS.
WARNING SIGNS THAT SHE WAS DISABLED BOTCHED TOGETHER WITH THE "L" LEARNER
DRIVER SIGN?
WAS SHE LEARNING TO WHEEL THE VEHICLE?
LEARNING TO COPE WITH BEING DISABLED OR
BEING TRASNGENDERED?
JUST LIKE A SPECIAL OFFER 2 FOR ONE?
S DISABLED WHEELCHAIR USER......
HER MISSION IN LIFE IS TO MAKE COMPANIES AWARE OF HOW FUCKING HARD IT IS TO
GET ACCESS IN A WHEELCHAIR.
SO HOW DOES SHE DO THAT?
SHE REGULARILY HURLS HERSELF DOWN THE 7 STEPS OUTSIDE HER LOCAL BANK.
"I'M A STUNT ARTIST" CHRISTINE TOLD ME.
EVERYONES A FUCKING ARTIST NOWADAYS..
STARTED THINKING ABOUT DISABILITY AND TOYS , LOOK WHATS OUT THERE
ALREADY...
"AIDEN ASSIT"...... A BOYS DISABLED TOY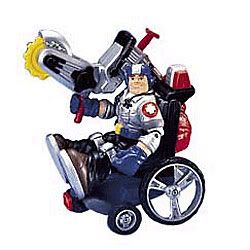 "SHARE A SMILE BECKY"...FOR GIRLS

AND
"TRANSGENDER BARBIE"

AND APPLE HAVE PRODUCED AN "I BOT!"