Sunday, March 06, 2005
around her neck she wore a yellow ribbon
some great american military leaders who chose to fight and die rather than give in to pacifism and defeat: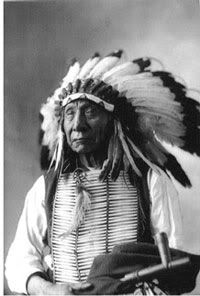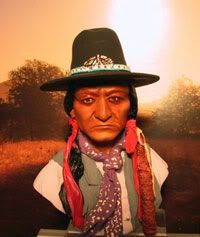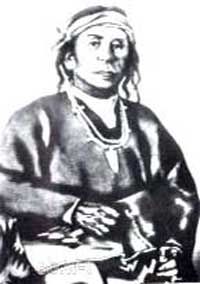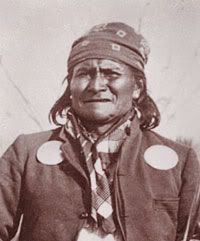 Ω
Comments:
THE MARINE HYMN
[Jimmy King, a Navajo instructor, translated the Marine Hymn into Navajo:]
Nin hokeh bi-kheh a-na-ih-la
Ta-al-tso-go na-he-seel-kai
Nih-bi-kah-gi do tah kah-gi
Ta-al-tso-go en-da-de-pah
Tsi-di-da-an-ne ne-tay-yah
Ay be nihe hozeen
Washindon be Akalh Bi-kosi-la
Ji-lengo ba-hozhon
Ni-he da-na-ah-taj ihla
Yel khol-go e-e-ah
Day-ne tal-al-tso go enta-she-jah
Tal-tso-go entas-se-pah
Ha-kaz dineh-ih be-hay-jah
Ado ta aokhek-ash-shen
Do ni-din-da-hi ol-yeh
Washindon be Akalh-bi Khos
We have conquered our enemies
All over the world
On land and on sea
Everywhere we fight
True and loyal to our duty
We are known by that name
United States Marines
To be one is a great thing.
Our flag waves
From dawn to setting sun.
We have fought every place
where we could take a gun
From northern lands
To southern tropic scenes,
We are known to be tireless
The United States Marines
[... THE LAST VERSE IS SUNG LIKE A PRAYER ...]
Hozo-go nay-yeltay to
A-na-oh bi-keh de-dlihn
Ni-hi-keh di-dlini ta-etin
Yeh-wol-ye hi-he a-din
Sila-go-tsoi do chah-lakai
Ya-ansh-go das dez e e
Washindon be Akalh-bi Kosi la
Hozo-g-kay-ha-tehn
May we live in peace hereafter
We have conquered all our foes,
No force in the world we cannot
conquer,
We know of no fear
If the Army and the Navy
Ever look on Heaven's scenes,
United States Marines will be
there Living in peace.
http://thenaturalamerican.com/wind_talkers.htm
Post a Comment
<< Home