Tuesday, March 01, 2005
every morning i would see her waiting at the stop, sometimes she'd shopped and she would show me what she bought

trish from brighton's style pointers
WENT ON THE NO1 BUS THE OTHER DAY.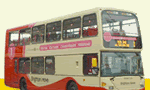 THE BRIGHTON AND HOVE BUS COMPANY HAVE NAMED EVERY BUS AFTER A BRIGHTON
CELEBRITY....I TRAVELED IN 'IDA LUPINO.'

...THEY REALLY SHOULD EXTEND THE
EXPERIENCE AND LET EVERYONE SMOKE LIKE SHE DID..
...AND PLAY THE FILM
SOUNDTRACKS IN THE BACKGROUND...
BIT OF TRAVEL ART INSTALLATION FOR THE...
BRIGHTON FESTIVAL..
..MAYBE I SHOULD HIRE THE 'BRIDE AND GROOM' BUS
USED FOR
MARRIAGES AND DO LOTS OF SCENES INSIDE THE BUS LIKE KITCHEN SINK DRAMAS
WITH A BUS FEEL...
SO THIS BUS HAD MORE OF AN 'H G WELLS' ' 'TIME MACHINE' EXPERIENCE RATHER
THAN AN 'IDA LUPINO'
THE OBESE GIRLS WITH A MOP OF STRAIGHTENED BLOND HAIR
GIANT SIZED T SHIRTS WITH IMAGES OF DAFFY WITHOUT THE DUCK AND
HOMER AS IN SIMPSON ARE TOTALLY SURREAL
THEY DON'T FEEL THE COLD SO NO
JACKETS FOR THOSE MORLOCKS.
THE BEST BIT IS THE HIPSTER JEANS WITH THE FLAB OF A MILLION DEAD MUTANTS
INSIDE THEM HANGING OVER THE WAISTBAND EDGES...
THOSE BABIES THEY PUSH IN THE PRAM ARE FOR EATING,,BLOODY BREEDING THEIR OWN
GRUB !
WELL MORLOCKS WERE CANNIBALS


THESE WOMEN TRAVELING ON THE NO1 FROM NEOLITHIC WHITEHAWK BUS.
HAVE ONE MISSION. TO GET TO THE SAFELY ENCLOSED SHOPPING MALL
HAVE THEIR NAILS DONE!
FALSE FRENCH MANICURED NAILS.....TALLONS..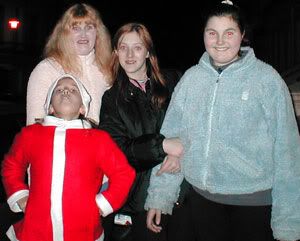 THE BUS IS SEGREGATED NOW INSIDE..
ALL THE MORLOCKS STAND ON THE LEFT HANDSIDE WITH BUGGIES OF CLOTHES AND
CHILDREN...NO FOOD SHOPPING...
ALL THE PENSIONERS AND DISABLED ON RIGHT HAND SIDE SITTING.
THE FOREIGN STUDENTS AND SCHOOL KIDS TAKE ONE LOOK AT THE LOWER DECK AND GO
TO TOP DECK FOR SAFETY!
ME I RODE AT THE BACK OF THE BUS WHICH IS SLIGHTLY RAISED IN THE OBSERVERS
SECTION......THE GOTHS AND PLATFORMED PUNK PIERCE STUDDED MUTANTS
RIDE THE GANGWAYS.
TICKETS PLEASE......
Comments:
cool article trish,i know what you mean about buses(i live in catford) and have started running to work to avoid using them
Post a Comment
<< Home