Tuesday, March 15, 2005
our house it has a crowd, there's always something happening and it's usually quite loud

trish from brighton's style pointers
BRIGHTON AND HOVE IS PREPARING FOR THE BRIGHTON FESTIVAL.
THIS IS A FESTIVAL OF MUSIC AND DANCE AND YAK YAK.
THAT MEANS EVERYONE HIGH LIFE OR LOW LIFE WILL BE REHEARSING LIKE BILLY O!
THE WEIRD BIT IS.......THEY HAVE OPEN HOUSES...
THAT MEANS THE AVERAGE PUNTER WHO THINKS HE IS AN ART..IST IS LETTING
COMPLETE
STRANGERS!!..INTO HIS HOME.IN 2005...THATS OUR HOMELY SIDE OF BRIGHTON
FOLK...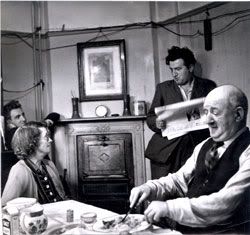 SO THESE ARTISTS HAVE CREATED PAINTINGS. POTTERY..
AND PAPER MACHE..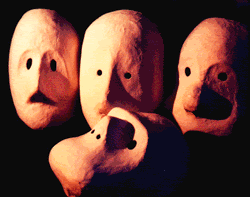 PIECES
FOR SALE...YOU NAME IT THEY SALE IT..THEY GET THEIR FRIENDS IN TO DISPLAY
THEIR WARES THEY HAVE GROUPIE ART HOUSES..THEN THEY SELL TO EACH OTHER...
BUT...
THERE IS A WHOLE GROUP OF WOMEN VISITORS, THAT GO TO THESE OPEN HOUSE DAYS
JUST TO ..
SEE WHAT THE HOMES ARE LIKE...
AND HAVE A NIBBLE OR TWO AND THE ODD GLASS OF VINO..
SO THE FUNNY THING IS THAT SO FAR ....
.. ..NOTHING HAS BEEN STOLEN! FROM THE
'OPEN HOUSES'? IT SAYS A LOT, NOTHING WORTH STEALING.
WARHOL WOULD HAVE LOVED IT.
THEY ARE LISTED UNDER FRINGE...