Wednesday, November 08, 2006
hey bullfrog
i was looking through early 60s melody maker charts for more examples of crap english covers of american music but i got a bit nauseous and changed tack.
luckily, during trash city uk the charts were 80% american originals. most of them are well enough known but this guy stood out as someone who should be talked about a lot more: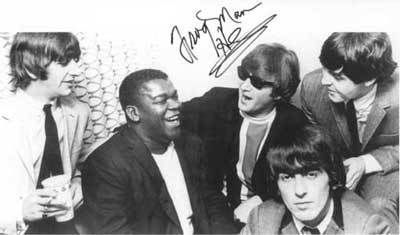 clarence "frogman" henry. he's still big in new orleans. check out his hit from 1961:
Clarence "Frogman" Henry: But I Do
clarence opened for the beatles on their american tour in 1964, and you can see from the photo how much they liked him.
next time you're in new orleans, ask a cop if clarence is playing anywhere that night.