Sunday, November 05, 2006
someone to love, somebody new
and if you think those euro dullards were bad then you have to remember that the void had its own home grown english artists who were a hundred times worse.
trad jazz was big: kenny ball, acker bilk. like, recycled new orleans jazz in england?
but the most popular genre of all was country music. ok, i guess country music originated in the hills of scotland and ireland but the stuff they made you listen to in the early 60s was pure horror. look at this act: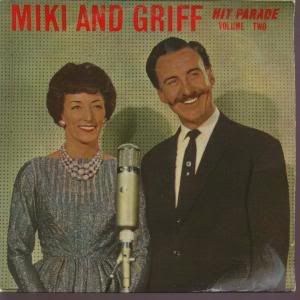 miki and griff. they were big. hit after hit. covering american country originals that were unlistenable in the first place: remember "little bitty tear"? i won't bother posting a song by them. you can't find their stuff, anyway. even the geek collectors don't want to remember them. miki and fucking griff. that's how bad it was in trash city uk.
then, on october 27, 1962, it all changed. love me do entered the melody maker top 50 at number 48.
and this song was a new entry, at number 45, in the same chart:
Craig Douglas: Oh, Lonesome Me
here's craig with eddie cochran in 1960: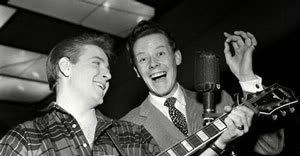 yep, craig douglas and miki and griff. that's what the 60s would have been like if john lennon had decided to become a painter instead of a musician.
it was
that
close.
Comments:
at least there was some good stuff going on in america - motown, roy orbison, everly brothers, sam cooke, ray charles. but in england love me do, (the harmonica intro especially) must have sounded like it came from nowhere. and after that the music scene exploded.
good article. thanks
Post a Comment
<< Home