Saturday, December 16, 2006
i get a thrill through my fingertips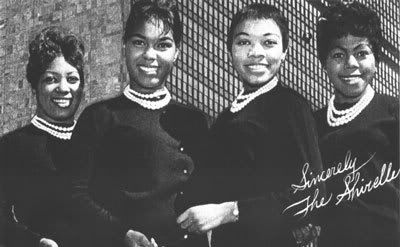 these girls deserve a big photo.
ok, earl-jean was great, but this is the fucking
shirelles
, man. can you dig it?
boys was the b side of will you love me tomorrow and was written by the producer of the a side, luther dixon, and another guy who was probably just hanging round the studio at the time,
wes farrell
.
that was the deal in those days. you got the b side done in the cheapest way possible. sometimes the guy brushing the floor helped out on bongos.
and the song would probably have been forgotten if the beatles hadn't needed something easy for ringo to sing in the one short day they were given to record the whole of their first album.
but then, if you're gonna do b sides, at least do one written by the guys responsible for hang on sloopy and soldier boy, right?
The Shirelles: Boys
manho's vote on boys: shirelles 7/10. beatles 5/10.